Personal Stylist Shares Picnic Outfit Ideas You Can Easily Recreate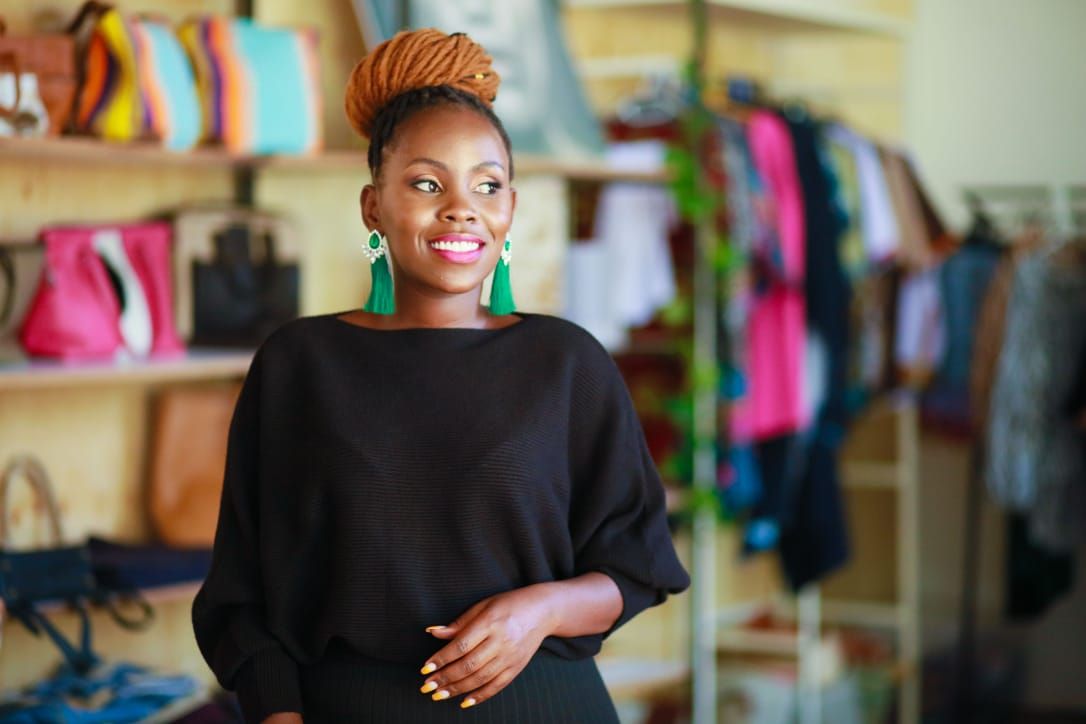 Picnics are casual outdoor gatherings which makes them one of the easiest and most effortless occasions to dress up for. However, what you wear to a picnic is determined by the activities that you will engage in. Let's not forget that you'll be munching on all sorts of lip-smacking homemade nibbles that might drip on to your outfit and leave visible stains, some temporary, others permanent. Your go to outfit must be a winner – a comfortable and breathable fabric, and low – maintenance (easy to clean). By now you're probably thinking of throwing on a T-shirt-and-jeans combo but you can be sure that won't be adding much life to the party.
To ease your fashion dilemma, we've reached out to Personal Stylist – Wahu Muchai. She has worked with personalities such as Victoria Rubadiri, Gladys Gachanja and Catherine Kamau.
Just recently, Wahu was the main stylist at a picnic event and she was generous enough to share how she came up with a number of show-stopping looks for the ladies who were present at the occasion. So, scroll down the gallery below and draw some inspiration from these stunning outfits! We promise you that these ideas would be perfect for your upcoming picnic date and will help you take the fun to the next level.
"When working with clients, the first thing I do is to observe their sense of style and body type – which helps me create wardrobe pieces that will bring out their personalities", says Wahu. "At a picnic, you're likely to be lounging on grassy fields so why not opt for vibrant flowy maxis, floral minis or Ankara palazzo pants!" she adds.
Floral Prints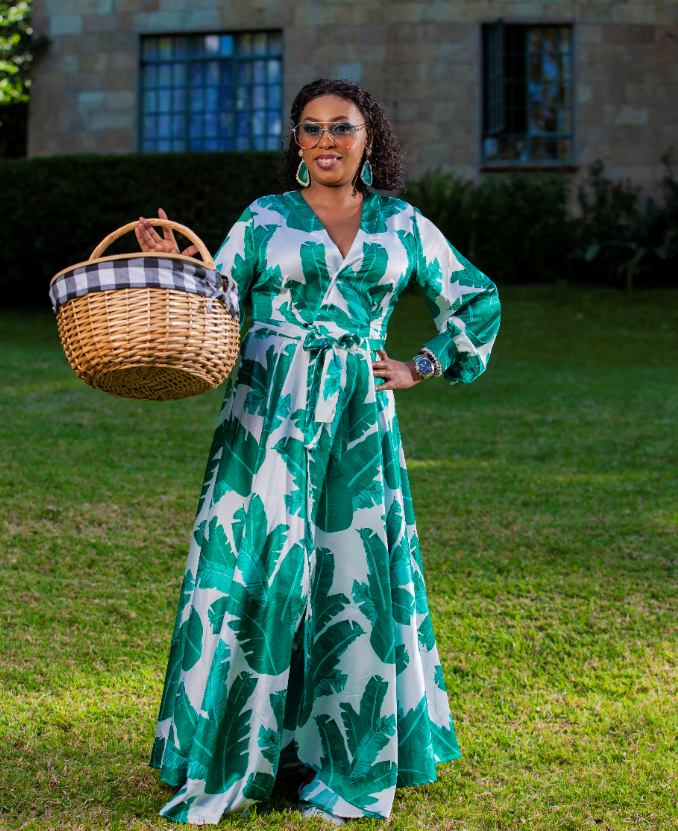 Floral maxis are nothing but delightfully flowy. The first dress (far left) is sure to make a statement. "I wanted to reveal her neck and match the model's complexion with this green and white lap maxi dress. The dress has a front slit which allows her to show off her legs if needed and the V-neckline made it easier to accessorize with marble green earrings." says Wahu.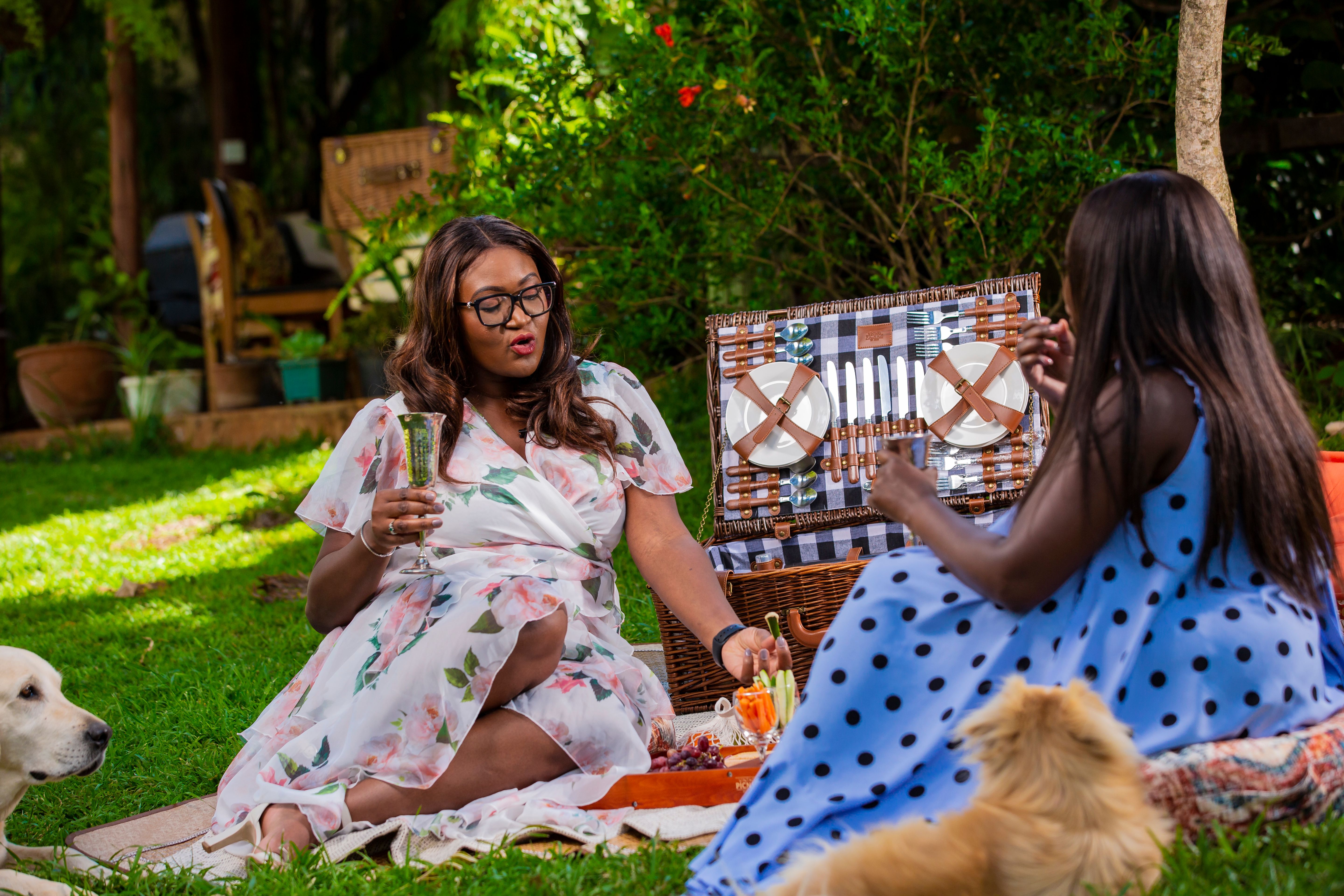 For this second look, we love how the wrap up white floral dress makes the model look elegant, dreamy, and relaxed. "I thought why not add a bloom happiness to the picnic with this flattering full-length dress? To finalize the look, the model wore a pair of white heels," she said. 
Shop for:
Green and white floral dress at t.jcollection
White floral dress at DADA WEAR
We also couldn't help but notice the luxury picnic baskets in all the frames. Purchase the bread basket, picnic basket and more picnic accessories at vintage_picnics.
Palazzo pants/jumpsuits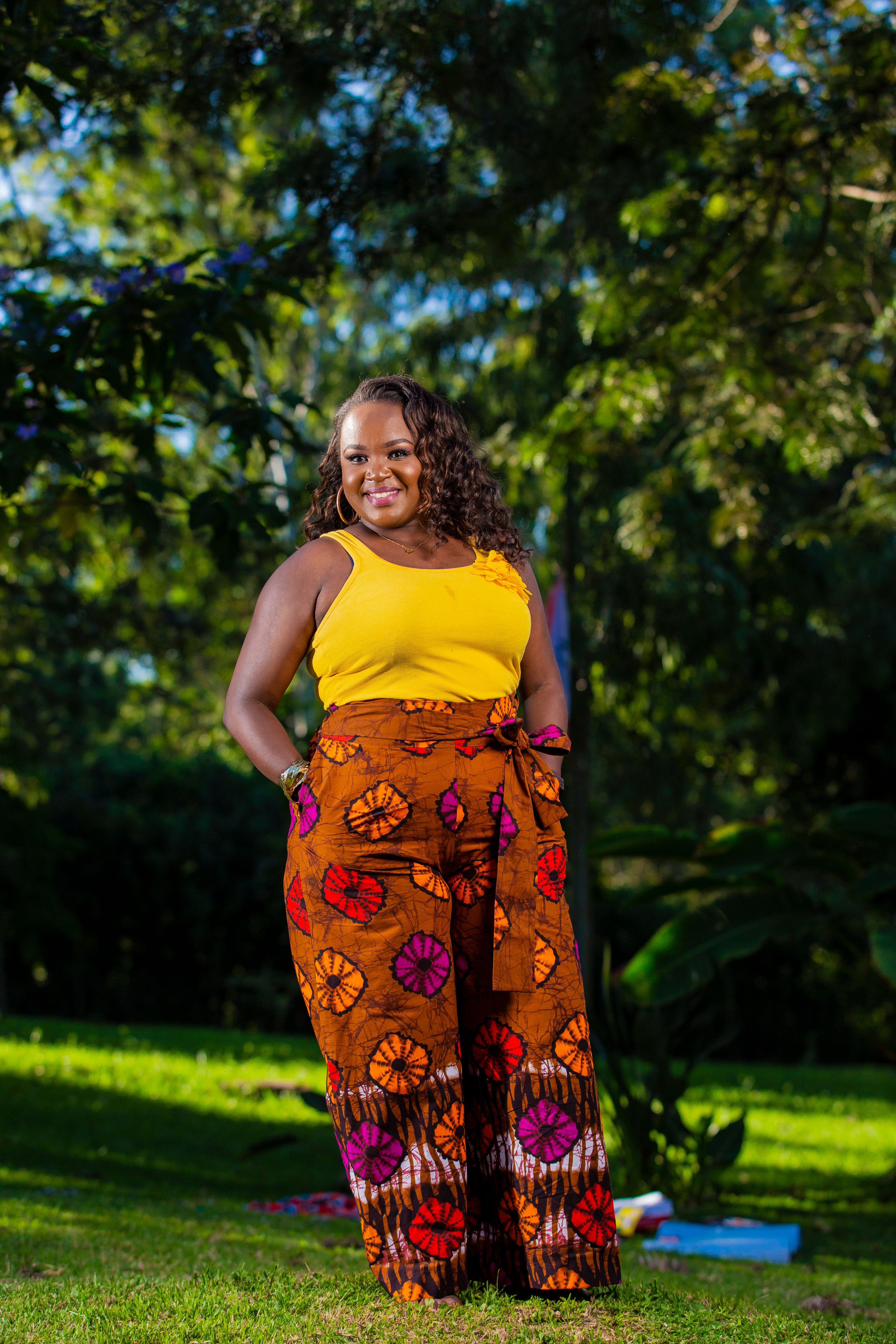 For your next picnic, try stepping forward in these broad legged pants that are stylish, floaty, cool and undeniably comfortable. Your best match for such a versatile pair could be a tank top, tube top, off-shoulder top or even a long slit top.
"I personally know this model as someone who has a vibrant personality. I picked for her Ankara pants to go with a yellow tank top. The whole look flattered her curves and she served sunshine vibes all day long." said Wahu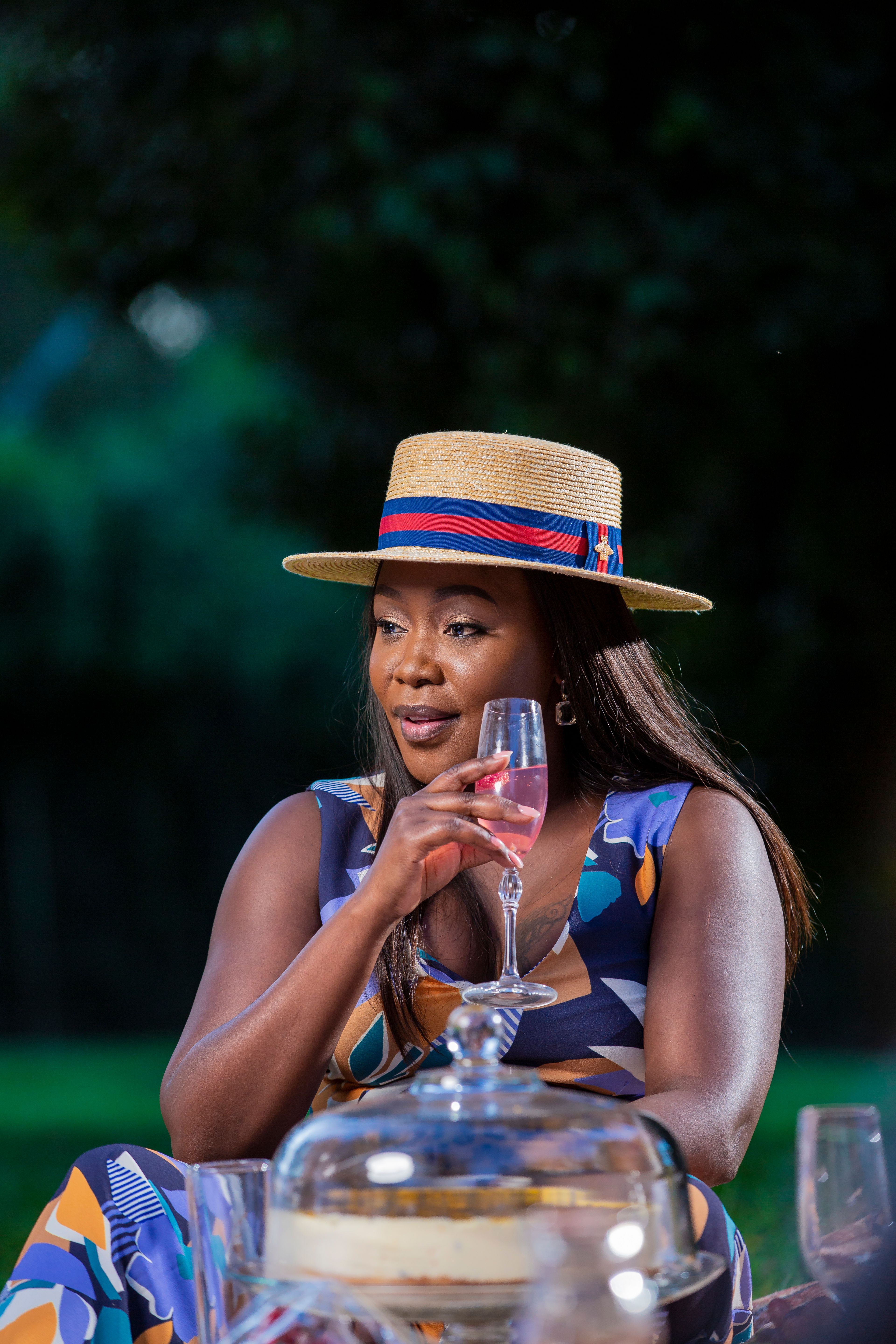 "This model is wearing a wide legged jumpsuit printed with colourful patterns. The royal straw boater hat that she is rocking makes her look so cool and classy."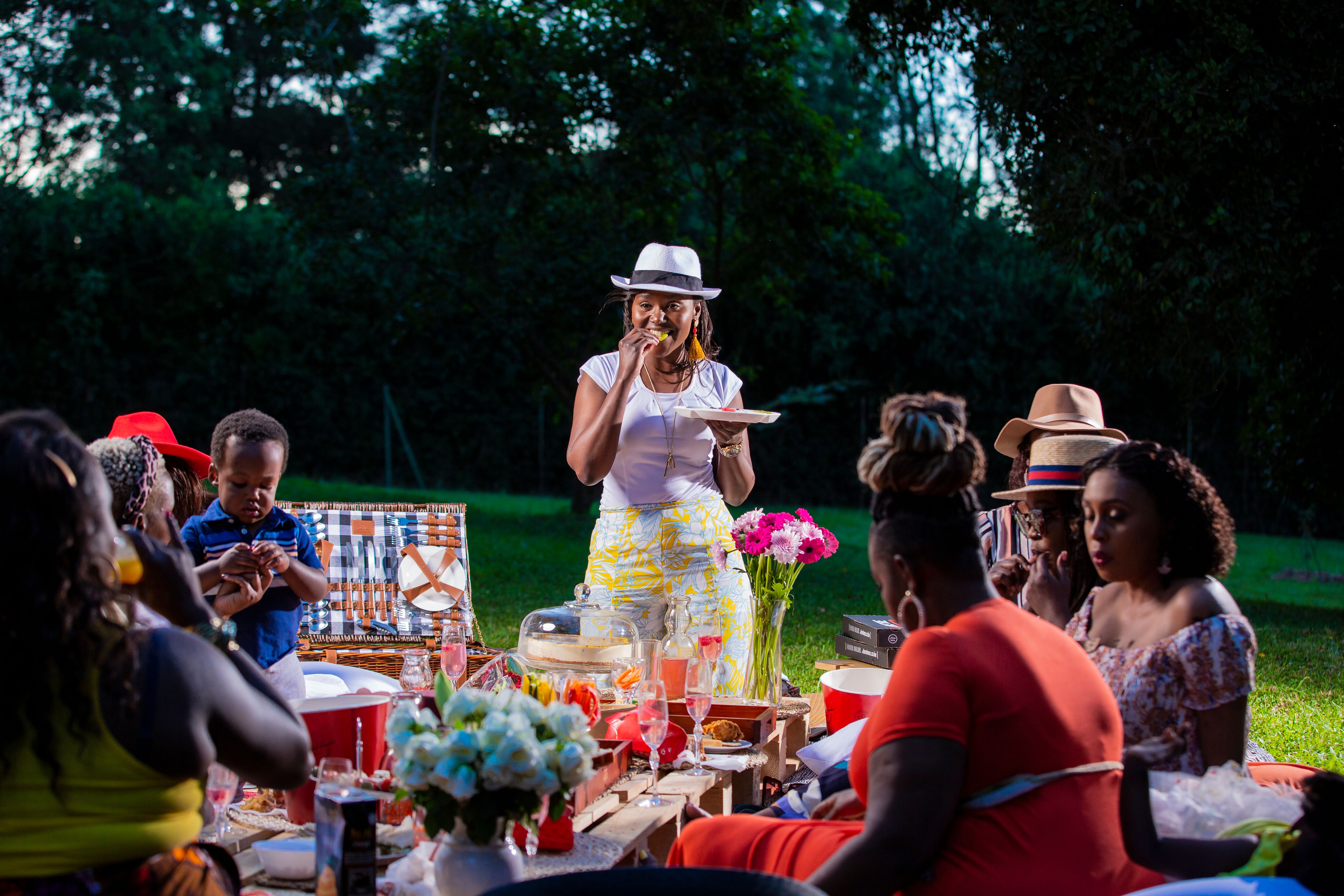 "And for the 3rd look (far right) I went for white-yellow palazzo pants paired with a white tee and hat. Here I was going for a cool and playful look." she added.
Shop for:
White-yellow palazzo pants and hats at samaiah_closet
Ankara pants at shytess
Jumpsuit at giannamode.ke
Asymmetrical Maxi dresses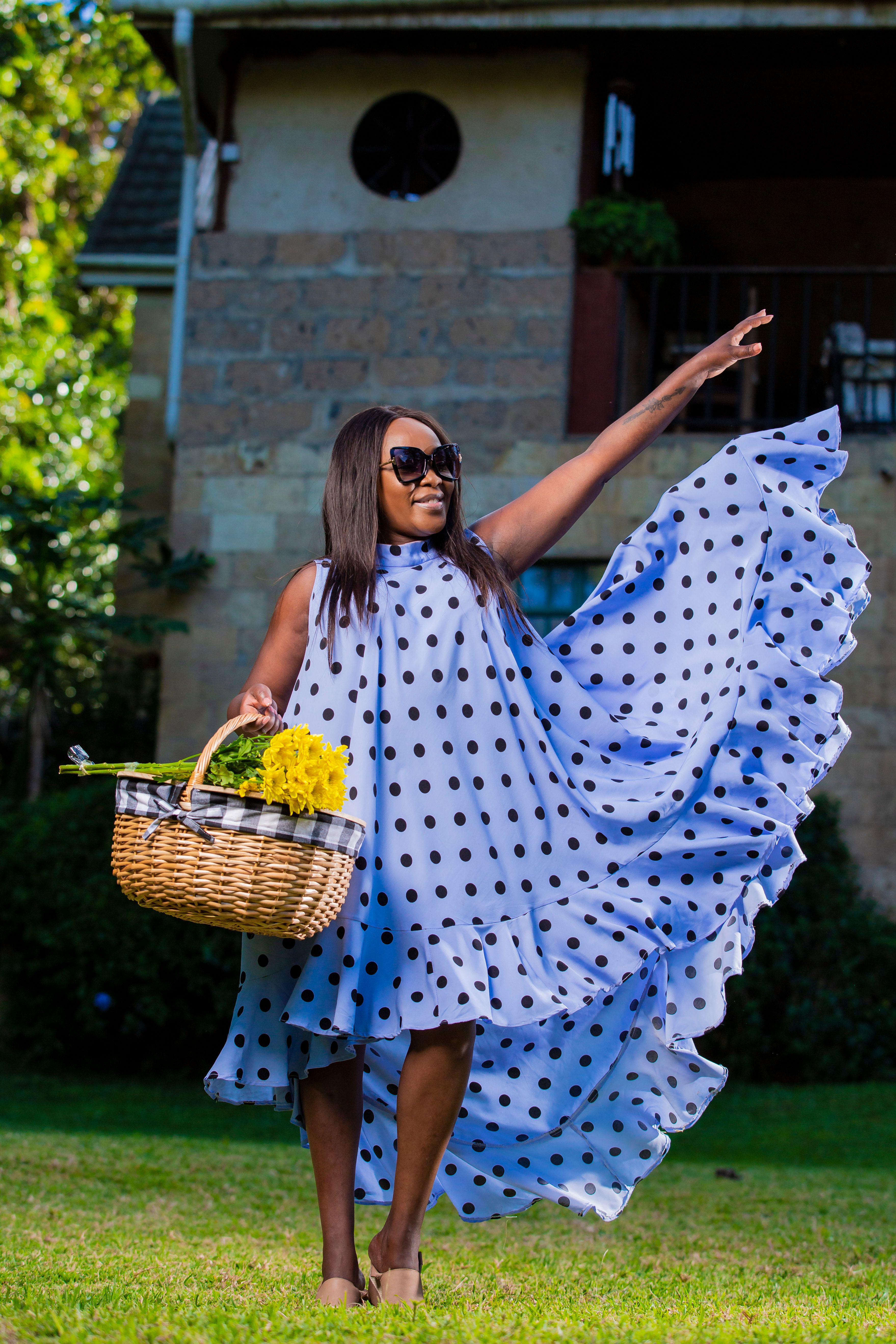 Asymmetric dresses are the throw-on styles that will elevate your picnic wardrobe and take off the stress of not knowing what to wear. Wahu says that she loves asymmetric dresses because they look just as great with chunky sandals or heeled iterations. And we are not surprised that they look this stunning.
"I styled this look to create a rich babe kind of vibe and this blue spotty number did just that. The high-low design and vibrant colours complement the model's skin tone so well. I accessorised it with black sunnies and a bread basket from @vintage_picnics."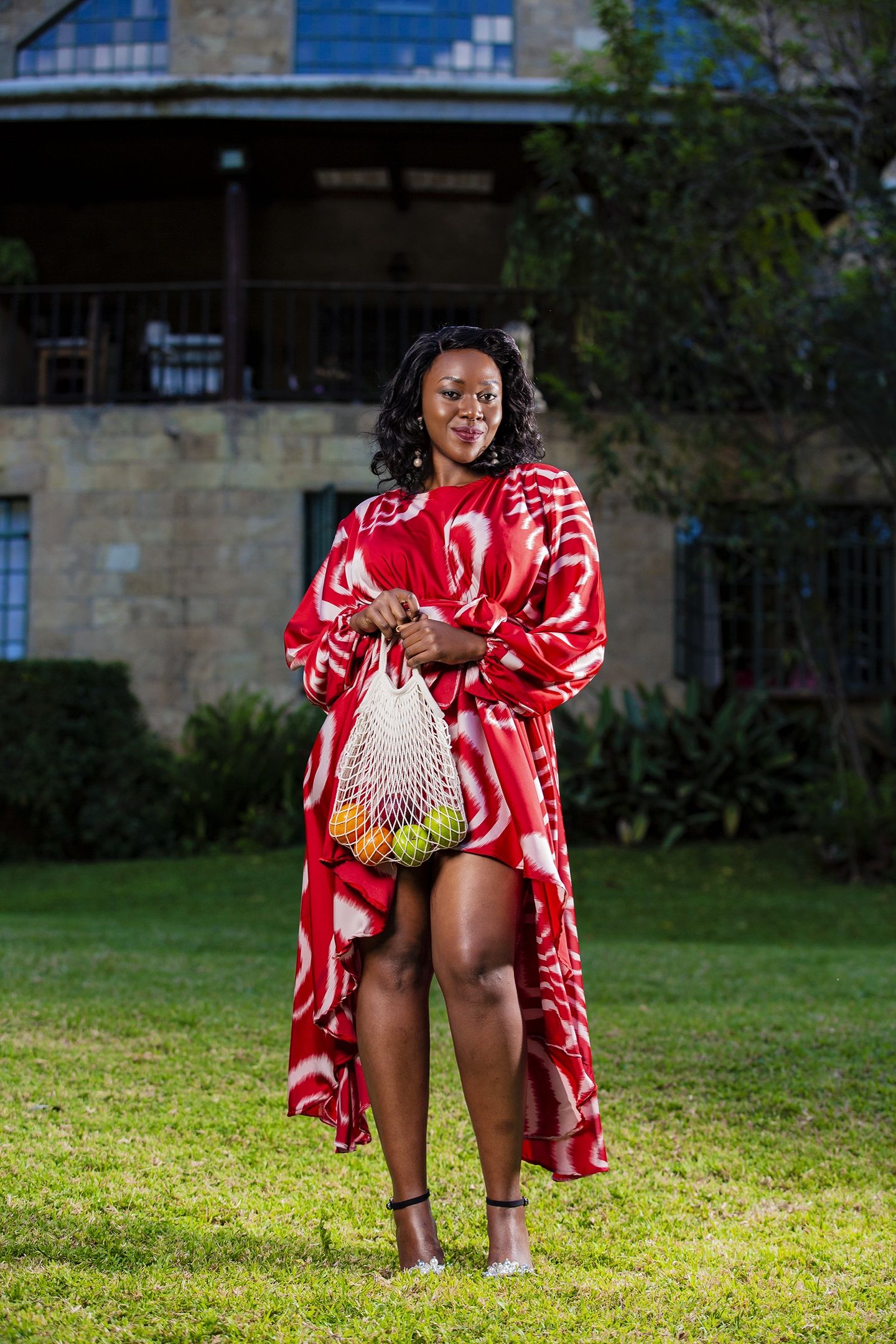 This second piece is a red-marron dress designed to show off the legs and flatter the curves. "The unique print style gets a yes from me and I would recommend such a fun and flirty dress for romantic picnic dates, park trips or garden visits. We tried it out with chunky heels but even if one wears it with trainers, they'll still want to wear this dress in rotation." said Wahu
Shop for Blue polka-dot dress, sunnies and the asymmetric red-marron dress at shopnewlevel.
 Vibrant colours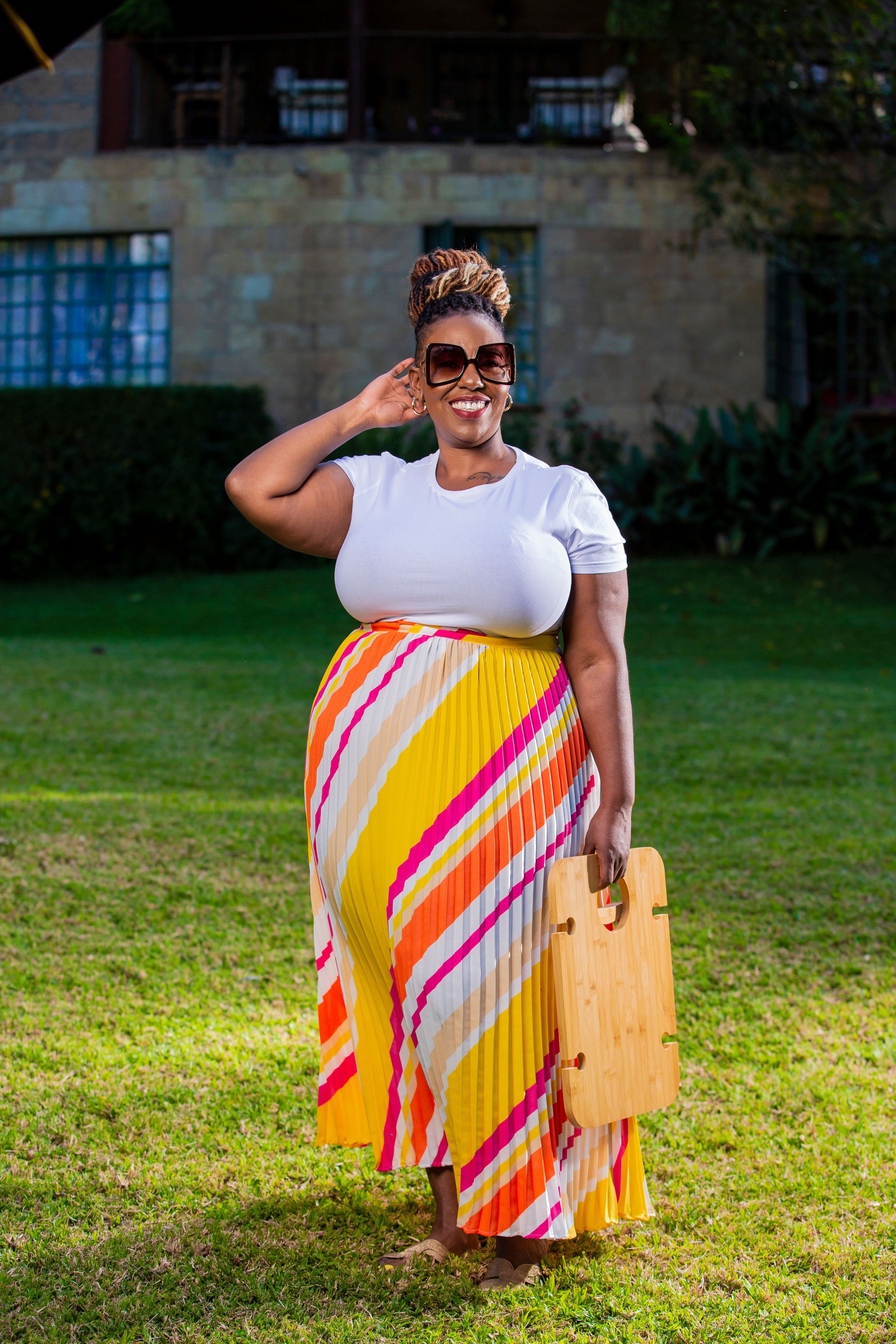 Wahu says that, the ultimate guide to nailing it for a picnic is to add some colour. Bring a little sunshine and rainbow with you – no matter where you are – with such vibrant colours. The striped, pleated maxi skirt is one you'll want to wear again and again and… you get the picture. 
The orange bodycon dress cinched with a golden belt is a summer staple you'll want to bring to every picnic date in your diary. "This model is wearing her own wardrobe but I accessorised the first look with sunnies and chunky earrings. "she added.
Shop for:
Accessories at misskerre
Foldable garden champagne table at vintage_picnics
Neutral shades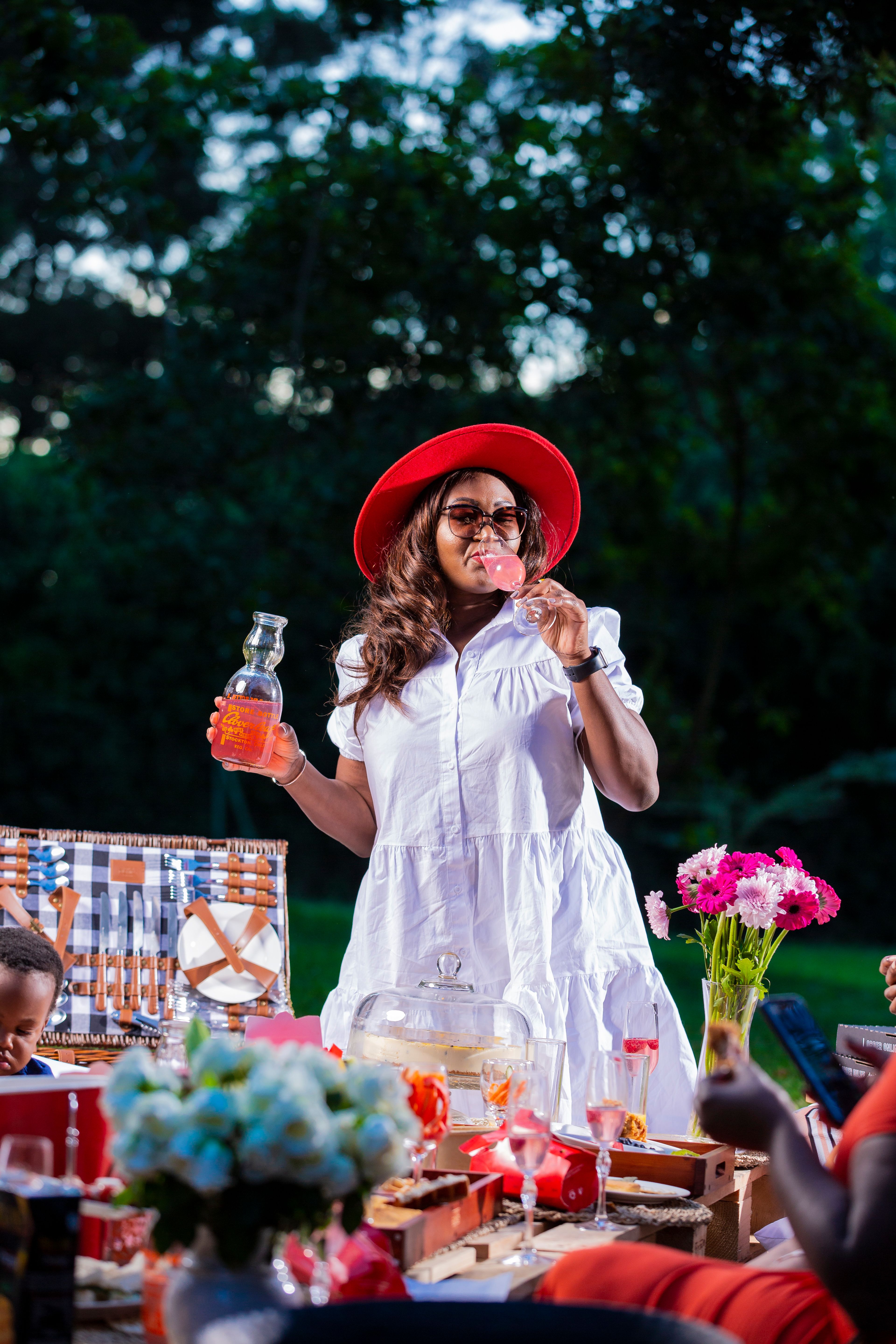 You can't go wrong with neutral colours especially when it comes to picnic soirées, and these shades of white are 360-degree perfection. "The model wears a white shirt topped with a red fedora hat. I was going for something simple, breathable and clean.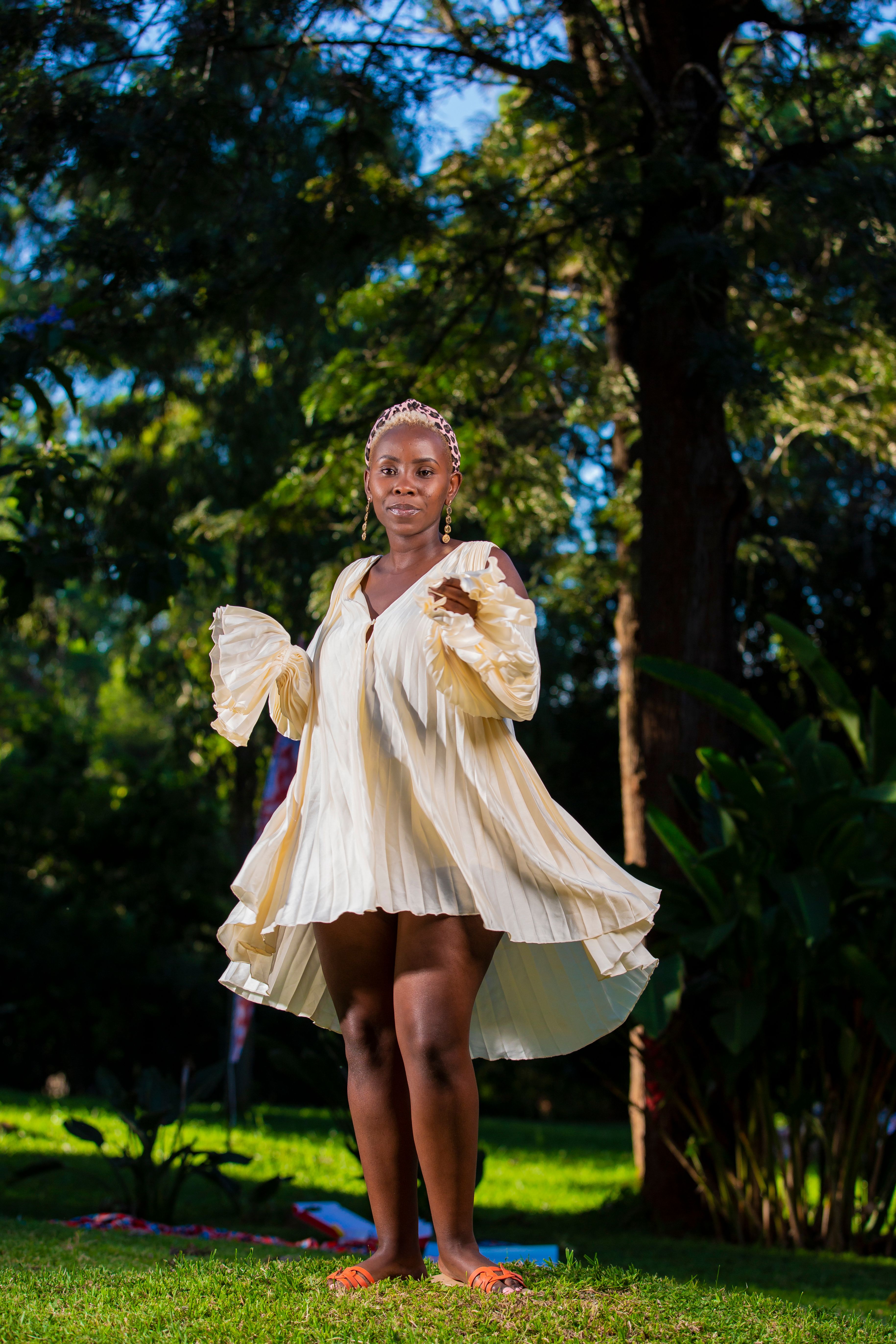 Here, I'm wearing an off-white mini pleated dress with an animal print head piece. The fabric is not only as soft as a picnic blanket but the design makes for great brunches too." says Wahu
Shop for:
White shirt at t.jcollection
Off-white dress plus accessories at samaiah_closet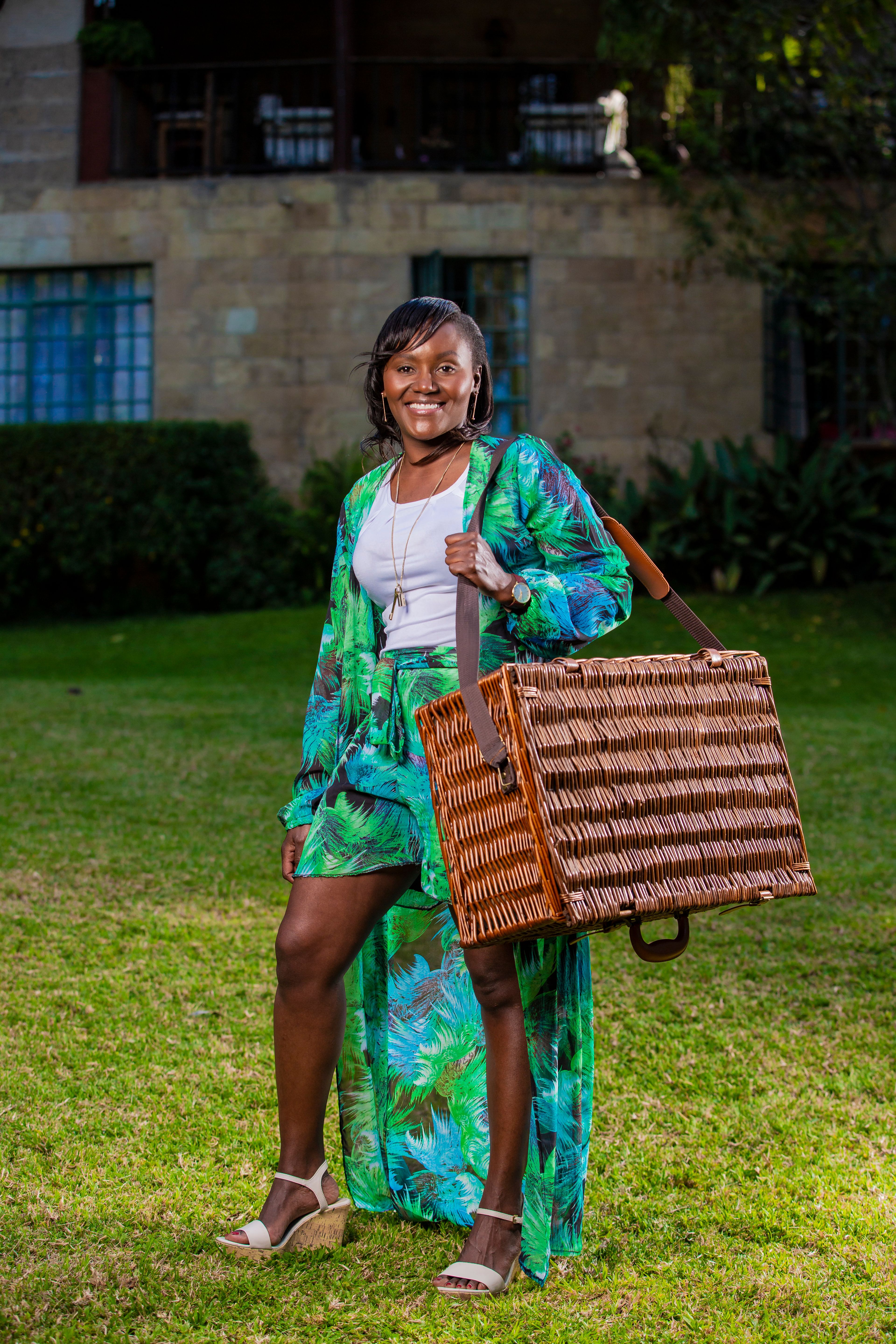 If you're looking to show off a little extra leg and catch a few rays, then this look is just perfect for you. The tropical suit is a combo of shorts, a kimono and a white T-shirt. Wahu said, "The colours are just ideal for someone who wants to feel like one with nature and be playful while flipping the kimono."
Shop for:
Kimono two piece at keekyscollection
Photos By: @festolang