Hinckley Makes The Perfect Picnic On Water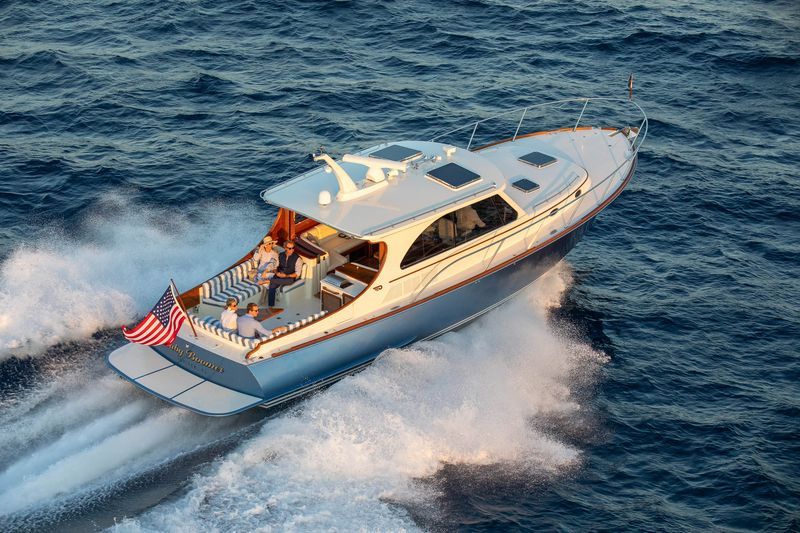 BLOOMBERG BUSINESS WEEK, 11.05.2021 |   Hinckley Yachts, a storied shipwright that was founded in 1928 and has been building out of Southwest Harbor, Maine, since 1933, has a rule: construct no boat until it's been purchased. A client buys a boat and then works with Hinckley specialists to craft it. The results are spectacular yachts and motorboats made with carbon fiber, epoxy, beautiful woods, and up-to-the-moment technology. 
But in 1994, Hinckley broke its no-building-before-buying rule for the very first Picnic Boat. The company was struggling financially when co-owners Bob Hinckley and Shep McKenney came up with the idea for a dayboat: It would look like the lobster boats that trolled Maine's rocky coves, be made of the then-newfangled Kevlar composite, and use an innovative inboard jet system to allow the hull to navigate shallow water.
Perfectly suited for sunset cruising with cocktails, the first Picnic Boat was launched in May of that year, with no interest and no buyers. But late that summer, as McKenney told me for my book, Hinckley Yachts: "a guy comes down the dock and asks for a ride. We're out for a bit, and when he gets off the boat he extends his arm to shake my hand and says, 'I'll take two.' "
Today, the Picnic Boat is a cornerstone of the company's business and one of its best-known products—Hinckley even trademarked the name. Now in its 25th year of production and with more than 1,200 built, the boat is available in 34-, 37-, and 40-foot variants with price tags of $1 million to $1.7 million. A "Signature" edition created in honor of the anniversary features comforts such as air conditioning and diesel generators as standard.
Hinckley, with its elegant design and use of varnished woods, "speaks to an era of boating that feels like it's been passed by in favor of bland white hulls and misshapen powerboats," says Peter Ostrega, global managing director for legal consultant Consilio, who bought a Picnic 34 in 2018. "When combined with the technology they put in every boat, it was the only boat we ever considered—and the only yacht builder we would work with in the future."
The Picnic Boat has been in such high demand, there's a backlog of orders almost two years long, according to Scott Bryant, Hinckley's vice president for sales. Chairman David Howe even notes that certified preowned Hinckleys often sell for more than the original owner paid for them—a rarity in the industry.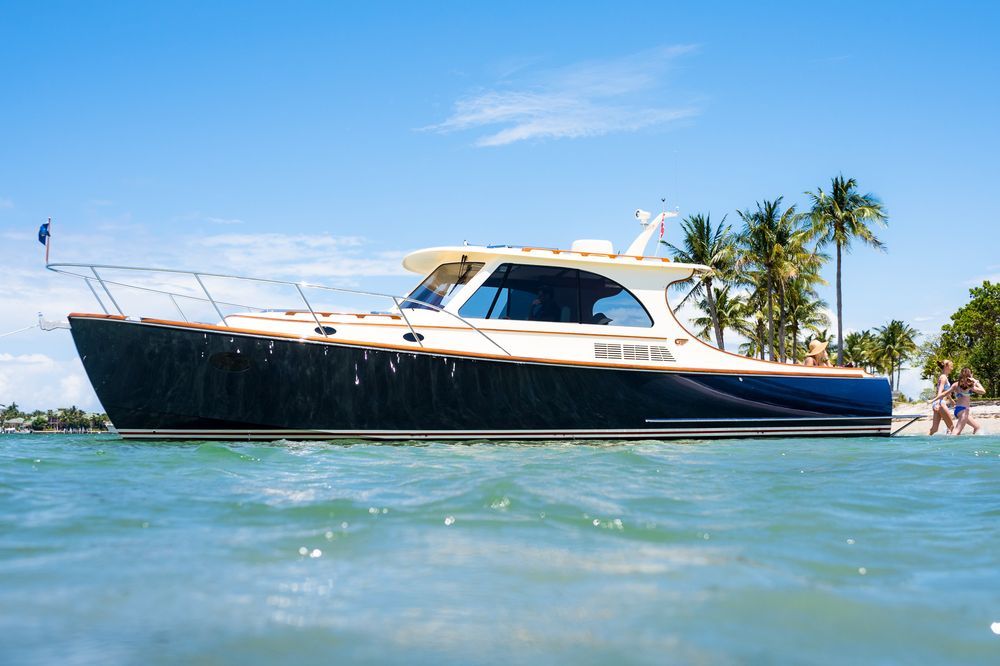 When customers began extending the boating season in the Northeast, Hinckley introduced YachtCare in 2019, a service that picks a boat up whenever its owners decide they're through taking it out and brings it to one of the company's 10 facilities. It returns the boat in the spring, fully serviced.
You'll know Hinckley's most popular models by their unmistakable sweeping sheer (the shape of the hull), curved transom, and lavish use of varnished teak and polished stainless steel. The inboard jet system is still standard: In it, a diesel engine is combined with an intake in the bottom and a propulsion mechanism in back that pushes and turns the boat. This setup not only allows for easy handling but also gives Picnic Boats access to shallower waters and better fuel efficiency at high speeds. The boats also feature Hinckley's patented JetStick, a joystick whose computer simultaneously engages the boat's jet and bow thruster and uses GPS technology to maneuver easily in tight spaces, something particularly helpful when docking.
"I was attracted to Hinckley's boats because they are the prettiest powerboats on the water, in my opinion," says Ostrega. "Only a beautiful monohull sailboat looks better."
This article was first published by Bloomberg on May,11,2021.