Tigoni: The City gate's Perfect Getaway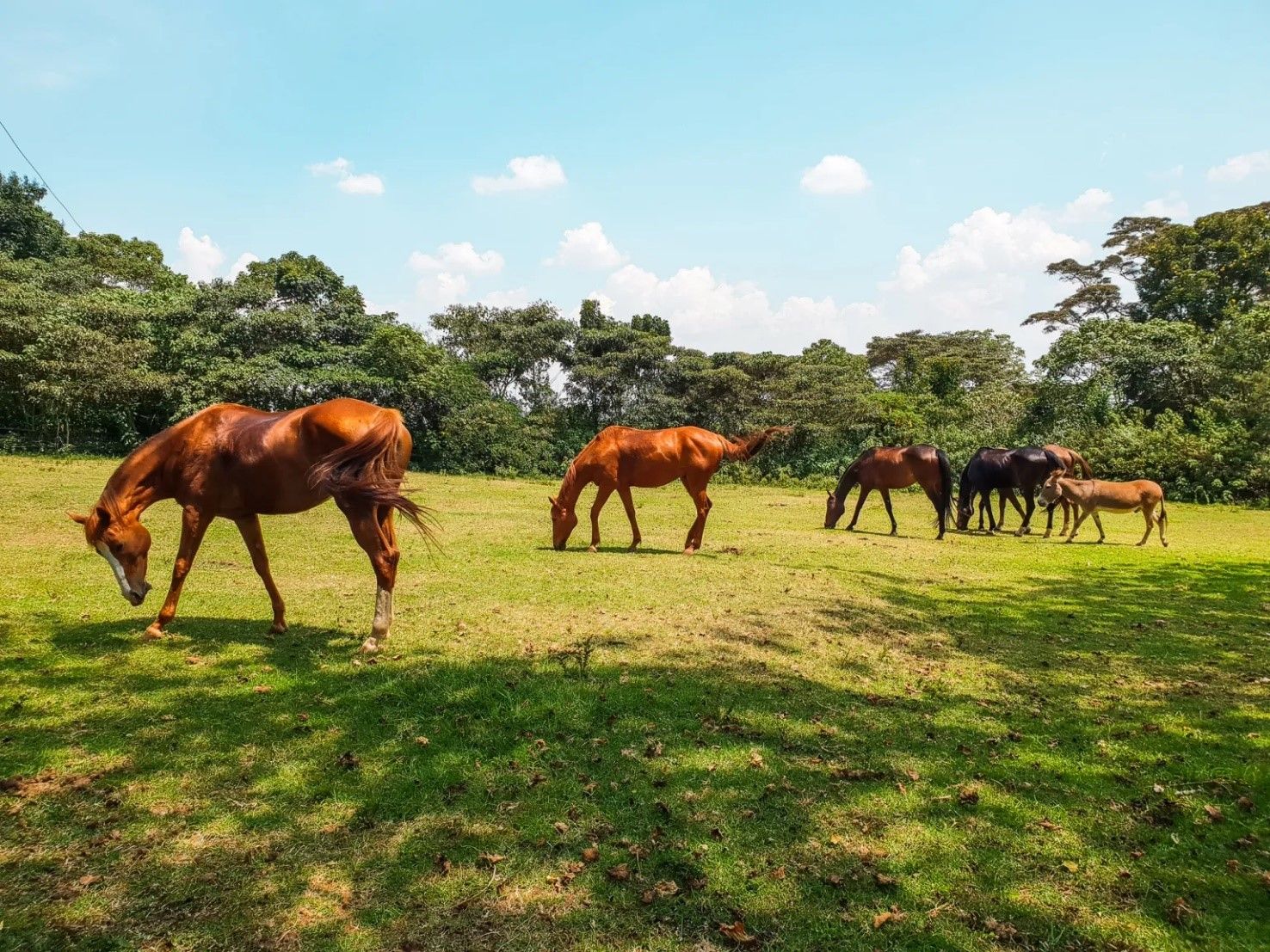 Just outside the Nairobi metropolis to the west is Tigoni in Limuru. Limuru is known more for the cold spells and for its everlasting fogginess than it is known a choice destination for its outdoor spaces. They are many and tucked away from the populace in an attractive uncanniness of the countryside. It smells of the freshness of the soil the trees. And tables for all its visitors a chance to be one with nature and all its facets. 
Tigoni is aged, not just with strictures, but with history too. It was a favorite settlement for oligarchs during the colonial period. Visiting any place in Tigoni means you have history latch on you like a moth would to a bulb. Aged as it is, but as comfortable as an old shoe. And this is why it should be on your list of places you favorite for weekend and holiday visits.  We will sample some of these places. All you will have to do is to have your picnic baskets, mats and all accessories ready to have a good time. Tigoni is half an hour's drive from the city center on Nairobi Nakuru highway. One of those places you don't need to have lengthy plans to visit. Pop in and pop out once you are done. 
The Lake House Tigoni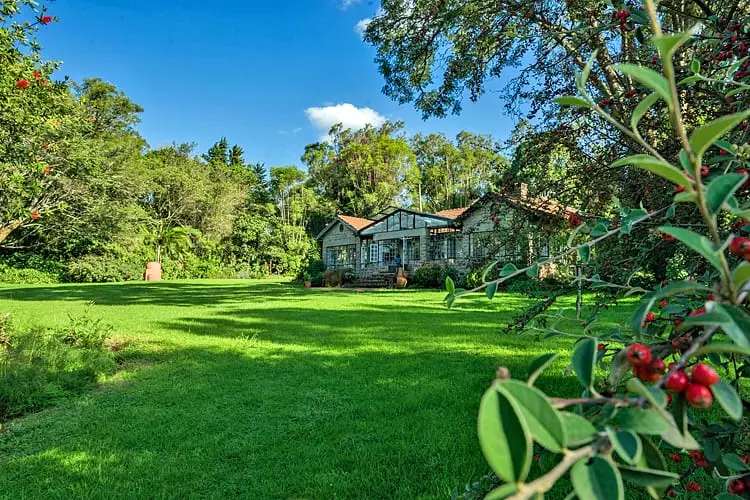 Yes, it has a lake. It is calm and stylish and a perfect choice for your rural styled retreat. It is very quiet, relatively sparse in terms of visitors. It offers a lawn that you can lay down your mat for a picnic or set up a table when it is cold and the grass moist. The natural greenery not only adds to the aesthetics but also the creates for your perfect nature-ish experience not far away from the city. On the lake you can sit on the floating pontoon and enjoy food and drinks from the restaurant. The lake house also offers accommodation for up to 11 people in case you change your mind after the picnic or boat ride. The space also offers occasional Yoga cafes which you may want to combine with your visit there. It is also a spot to test your fishing skills and walk your pets as they allow pets on the premise. 
Waterfalls Inn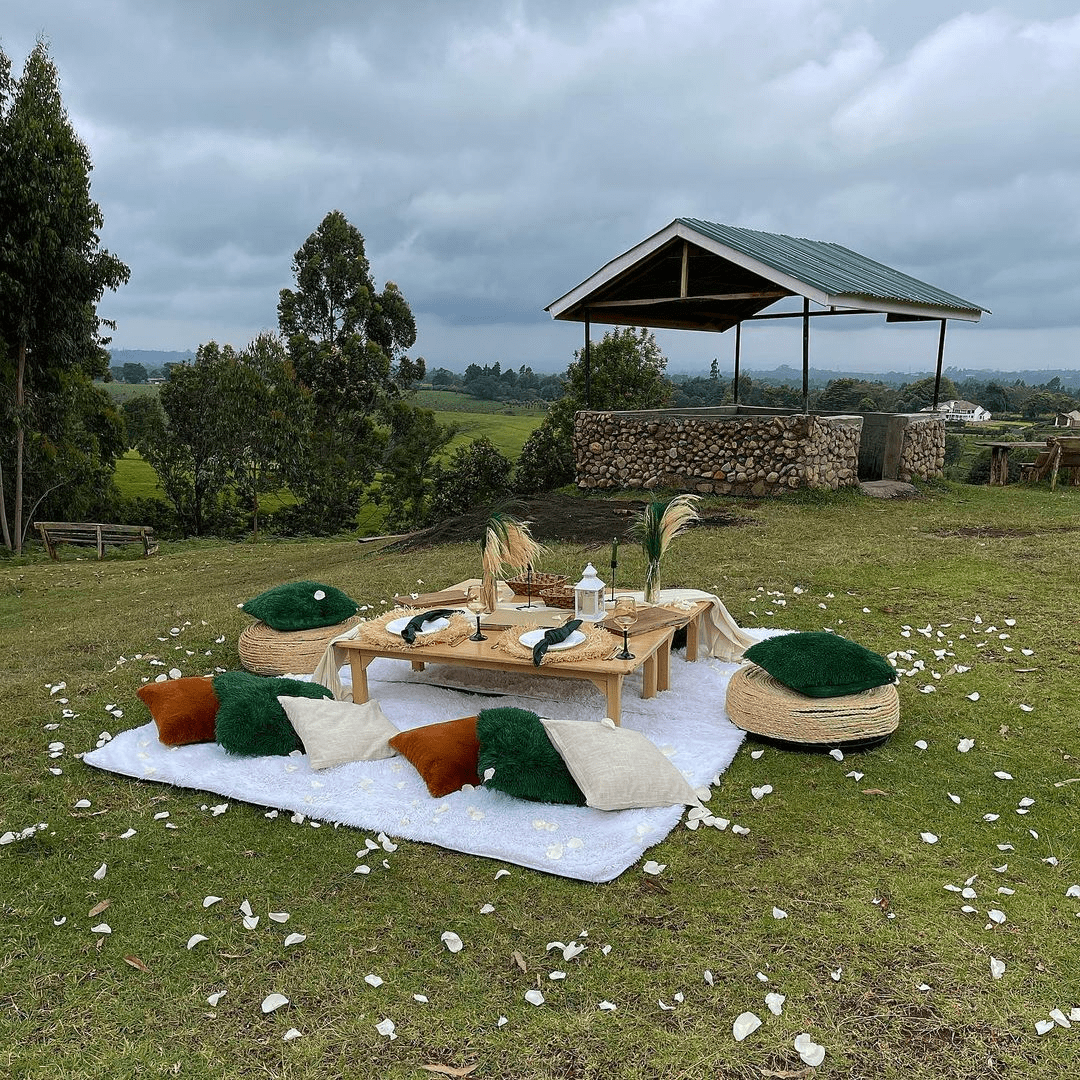 The sun sets here. This is your space if you love to watch sunsets. Waterfalls Inn is known for camping, nature trailing, cycling and birdwatching. It is the encompassment of the truest definition of outdoors. The space has wooden benches spread across the property that you can sit and view the city's skyline and its concrete appendages. On less cloudy days, it offers a perfect place to sunbathe and enjoy the glorious sun on a hilly countryside. Then there is a nature trail that leads you to the waterfalls. A scenic place for photography lovers and for the overzealous ones, to stand under the falls like it is a natural shower. Only that the water is very cold. But what is cold water when one is looking for some good fun? Nights at the Waterfalls Inn are equally as glamourous as there are provisions to set up bonfires for campers and visitors extending the night.  This is a perfect space for your picnic, birthday and engagement parties of a gateway within a small budget. It also has a children's play area. The young ones can have their own fun as the adults do their thing. 
Turi a Mumbi Cultural Center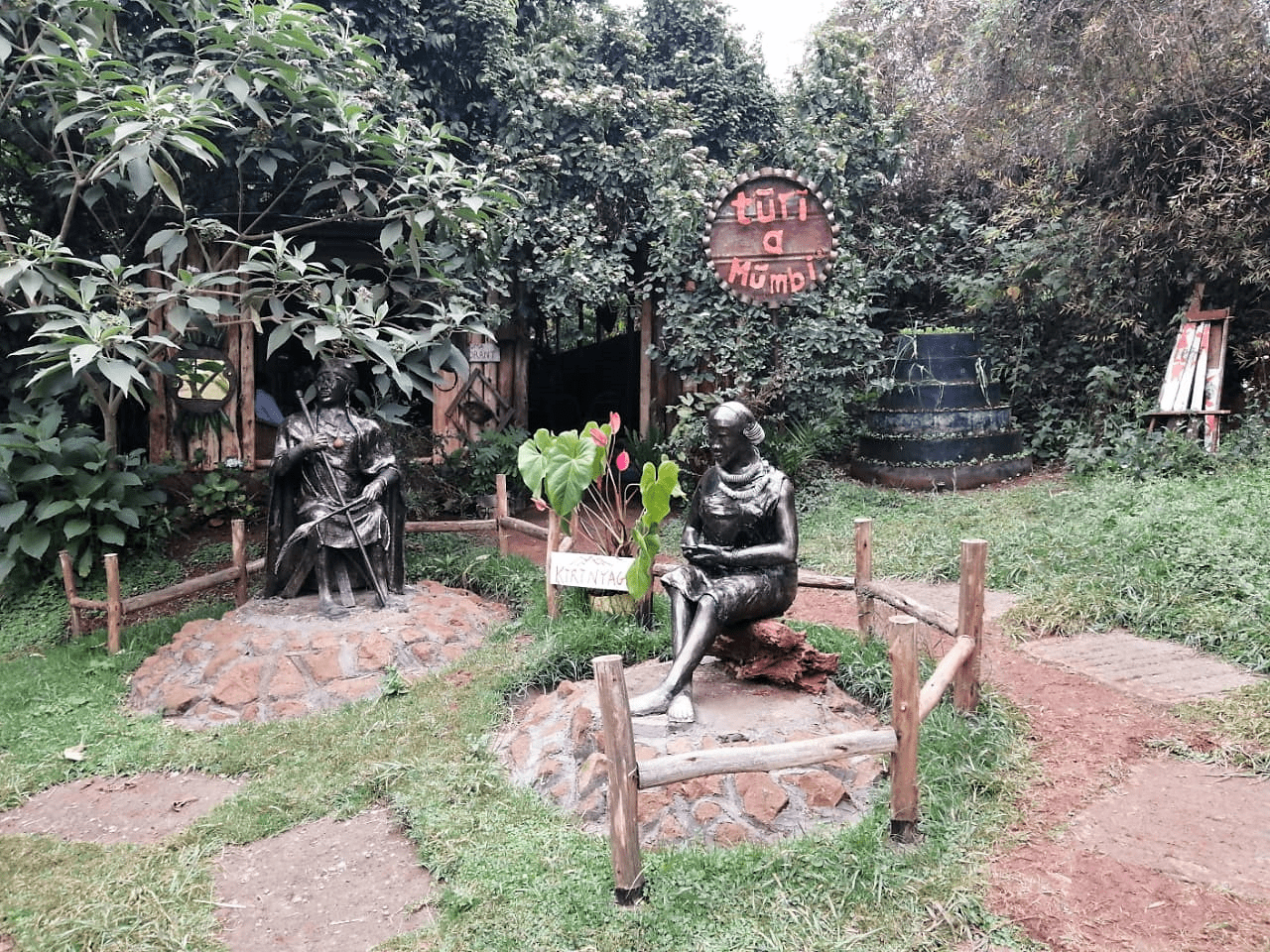 At a small fee of 350/- for adults and 200/- for kids, you can access this cultural center in Tigoni, learn about the Gikuyu culture and traditions, their food and systems. The space plays African folk music, has an exhibition center and has arts and history curators on site for your questions and answers sessions if any. Turi a Mumbi's menu, signage and directions are all one in Kikuyu and if you have wanted to get immersed into a culture deep to the knees this space gives you that perfect chance. The cultural center is not just about that, it also is, a nature envelope. It has a waterfall, a small river and a forest of mostly indigenous trees. Which invite you to trek and waterfall viewing. They have a well-maintained picnic garden that can also serve your photography needs well. It is child friendly so you can carry along the little ones with you. It is advisable that you book first before visiting as the space is not as big. Also look out for times the center hosts afro-fusion musician to maximize your experience there. 
Kawamwaki Farm and Horse Stables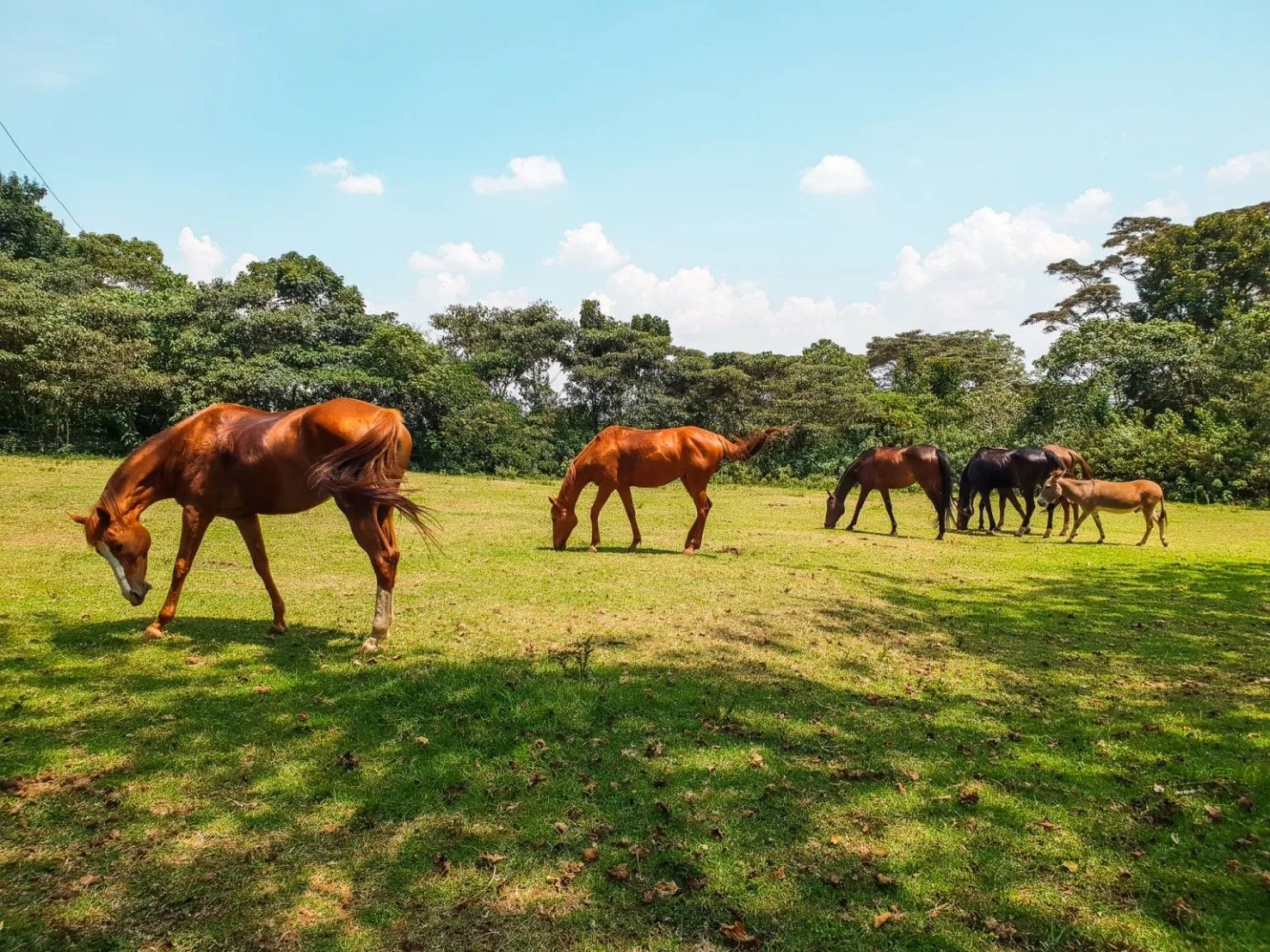 It is sacrilegious to talk about Tigoni outside the province of tea and tea estate. Kawamwaki farm is an endless expanse of a beautiful scenery carpeted by shiny green tea leaves. A visit to the farm gives you the opportunity to ride on horsebacks across the hills and valleys rolling with the tea plantations. You could also pick the option of walking on the dirt aisle barefoot for a chance to reconnect with the earth. The farm offers beginners classes for horse riding. The farm offers education tours on their expansive organic farms that grows among other things, vegetables. Picnic. Make sure you have a picnic in mind when you visit the farm. Just carry your maasai shuka, your food and drinks and enjoy the goodness of kawamwaki farm. And there is plenty of goodness to enkoy.
Thayu Farm House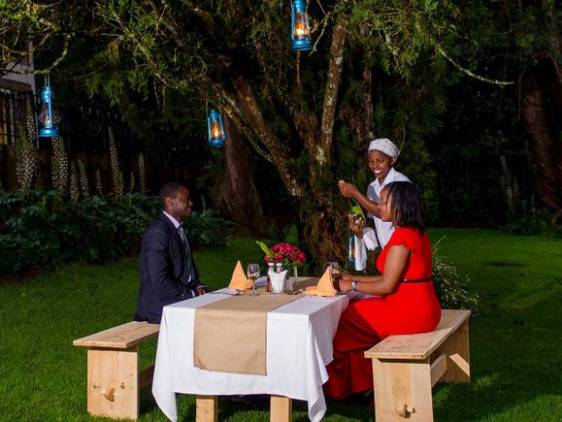 This is a rustic colonial era farmhouse built on five acres of land surrounded by trees, flowers and a manicured garden. It hosts a 3.5-star hotel with a selection of mouthwatering cuisine. A garden for your use in picnics. It is ideal for outdoor family lunches or other small parties that may involve food and drinks and garden space.  It is also a perfect venue for a romantic date if you may.
Naishola Gardens
You ever stepped on grass and felt the need to remove your shoes like you are about to walk on holy ground? Naishola Gardens is that place for you. The grass carpet escapes away from your standing point into the tea plantation and vegetable garden away from the gate as you enter the compound. The gardens are big enough to hold 150 pax, considering the social distance. The parking is equally spacious. Naishola is a perfect location for garden birthday parties, book club outings, engagement, gender reveals and anniversary parties. Simply said, they have you in mind when you want an outdoor space that can satisfy all your needs. The property has four gardens all tended to perfection that ensuring you have a one-stop-shop for all your needs. How about holding the wedding in one garden and the reception in another? They provide a safe stretched play area for kids. After making merry, make sure you pass by their vegetable garden and take home fresh veggies from as low as Ksh. 500/- from an assortment of the same.
These reviews are an injustice to the pure gold that is Tigoni. Our advice would be that you make it a point to visit any of these places and explore more that aren't on this list.