On The Sidelines In Style: The Ultimate Guide For Dressing Up For Polo
The Connaught Cup that recently took place at the Nairobi Polo Club did not disappoint.  The sidelines were awash with ladies and gentlemen dressed to the nines, creating a fair balance between the adrenaline-pumping action on the field and the timeless style and sophistication of royalty.  And while the teams were battling it out for the ultimate prize, another team was quietly working the sidelines in search of the Best Dressed Gentleman and Lady.
The Best Dressed Lady prize went to June Claire.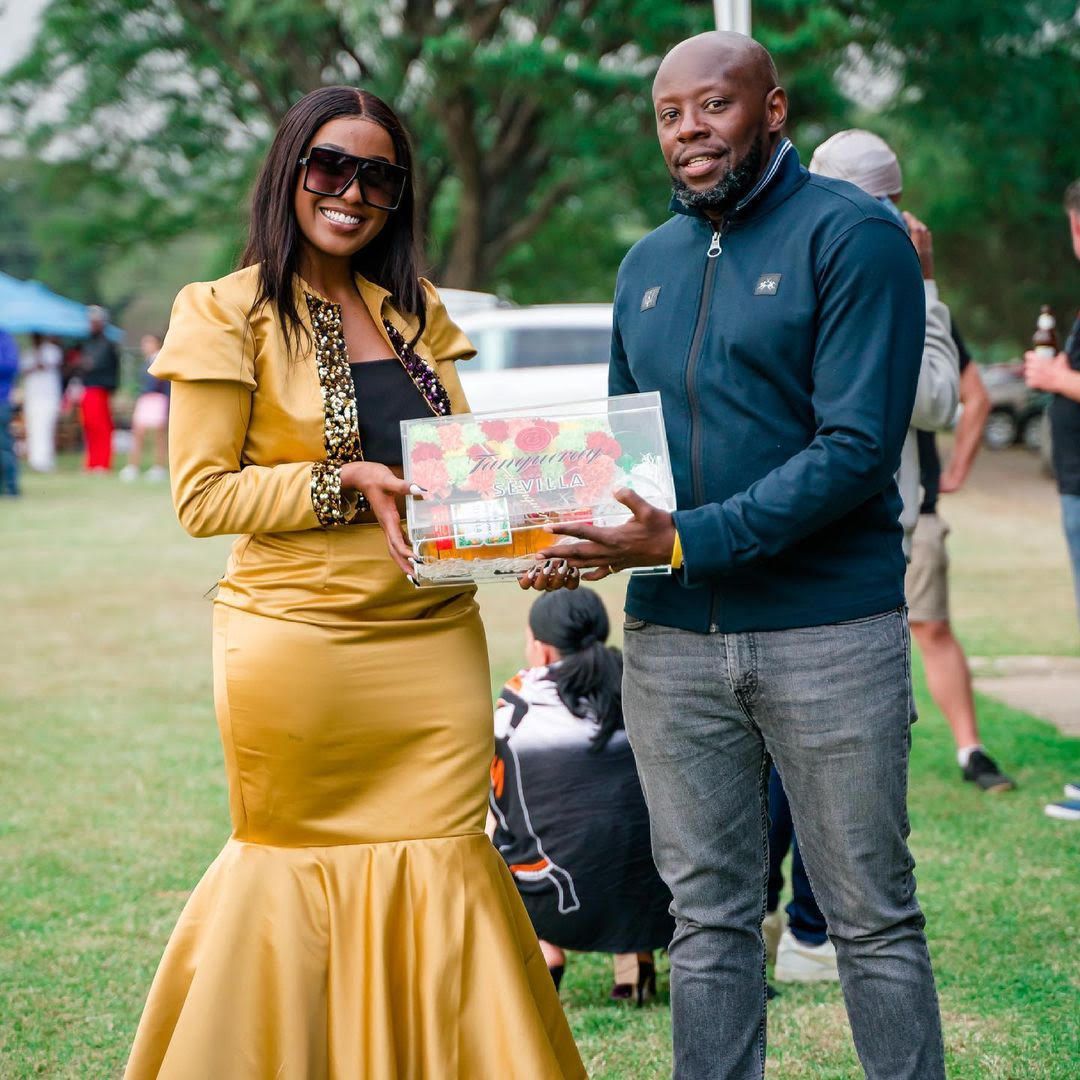 In an effort to create the ultimate fashion guide for polo, we reviewed how various fashion-forward attendees dressed during two different polo events – the Veuve Clicquot Polo Classic held annually in both Los Angeles and New York, and the Cell C Inanda Africa Cup which is one of South Africa's most anticipated annual polo tournament.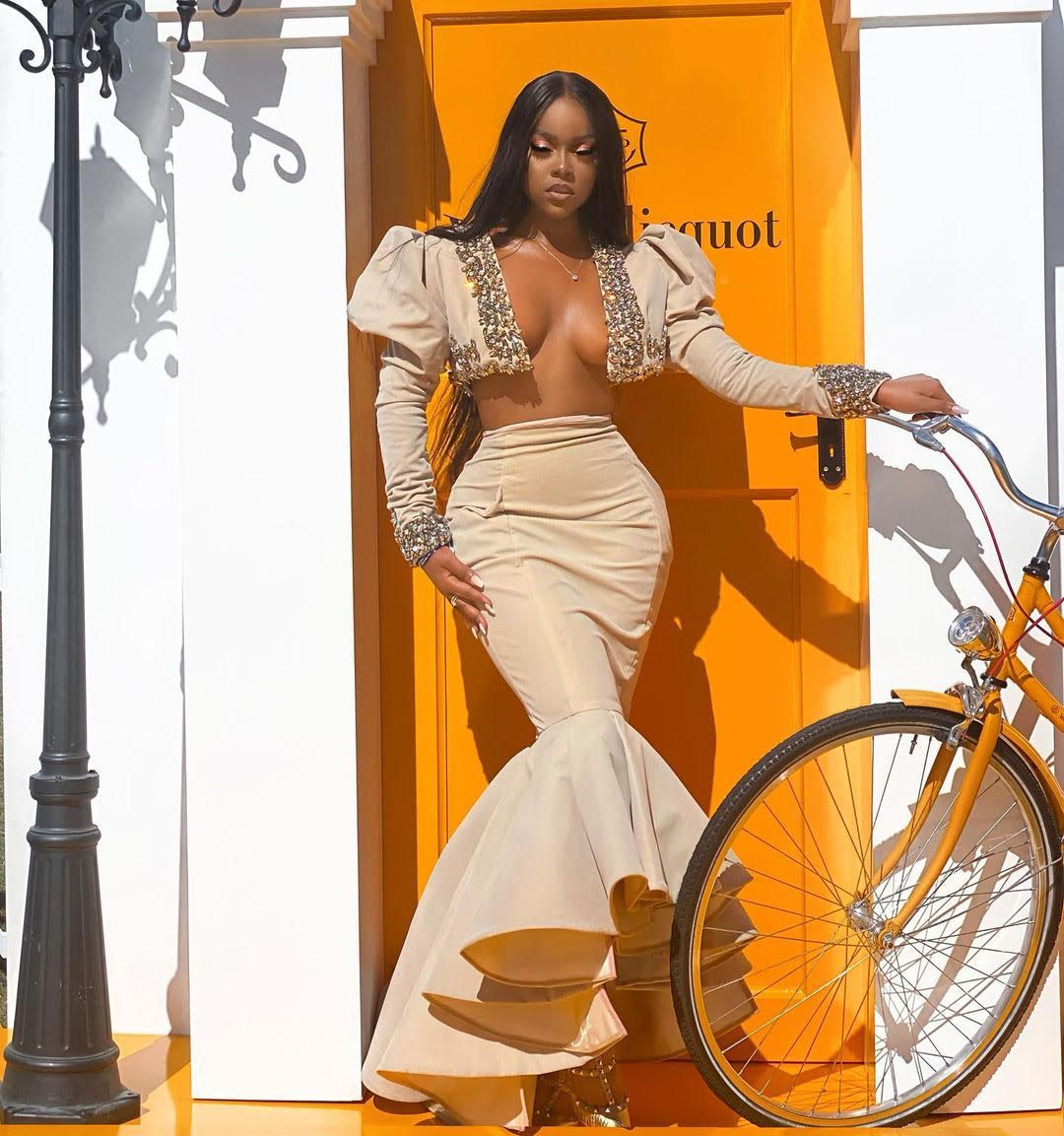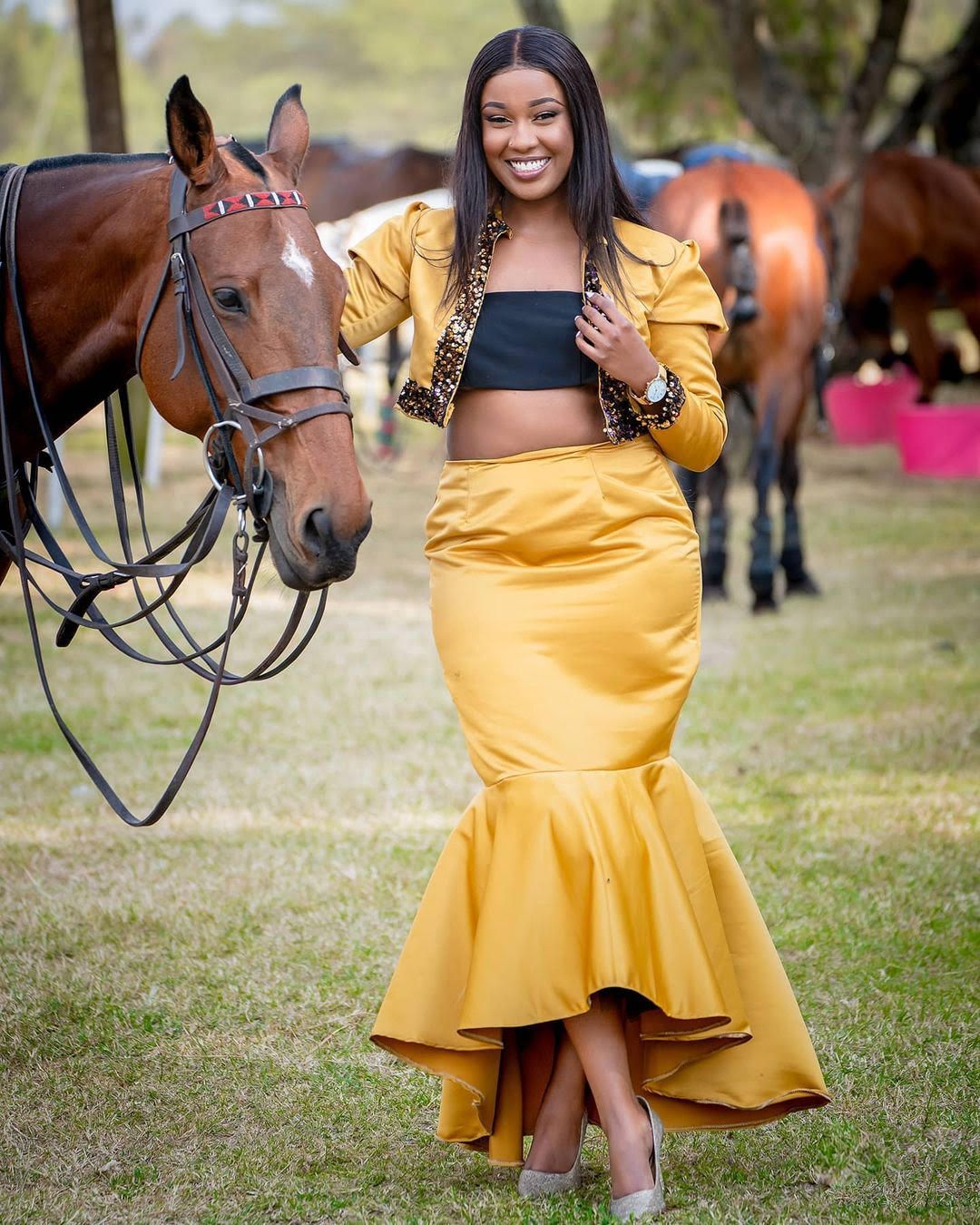 Interestingly, we came across a look that was almost similar to June's outfit. We can't decide. Who do you think wore it best? Hands down to both ladies for effortlessly killing this look as if it's been pulled straight off the runway. Regardless of who gained style inspiration from the other, we love how the set flatters the curves with a high-low mermaid finish at the bottom and crystal details on the half coat. 
Swipe on to see more of our favorite outfit ideas curated from a few polo match attendees. Easily customizable and perfect for the next polo match you'll be attending.
Silk-Satin Dresses
To kick-start this list, allow us to introduce this queen reigning in her Dolce&Gabbana dress that's simply too bloomin' beautiful to resist. Stemming from a tradition of royal fashion during polo tournaments, ladies used to wear full length dresses or skirts panning out to below their knees.  This dress features a light blue blend of floral detailing made of silk-satin fabric with a V-neckline and sleeveless arms. @mihlalii_n is accessorizing her look with a pair of statement sunglasses, a pearly headpiece and earrings, a mini bag and a pair of nude heels. We would recommend a similar look if you want to show off your personality using colors and prints while maintaining a head turning, wow-factor look!
Babydoll Dresses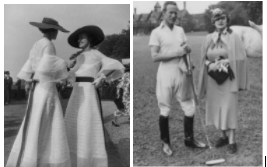 Going down memory lane, women would sometimes arrive at polo matches in attire made of stiff fabric and that came with corsets that must have been uncomfortable.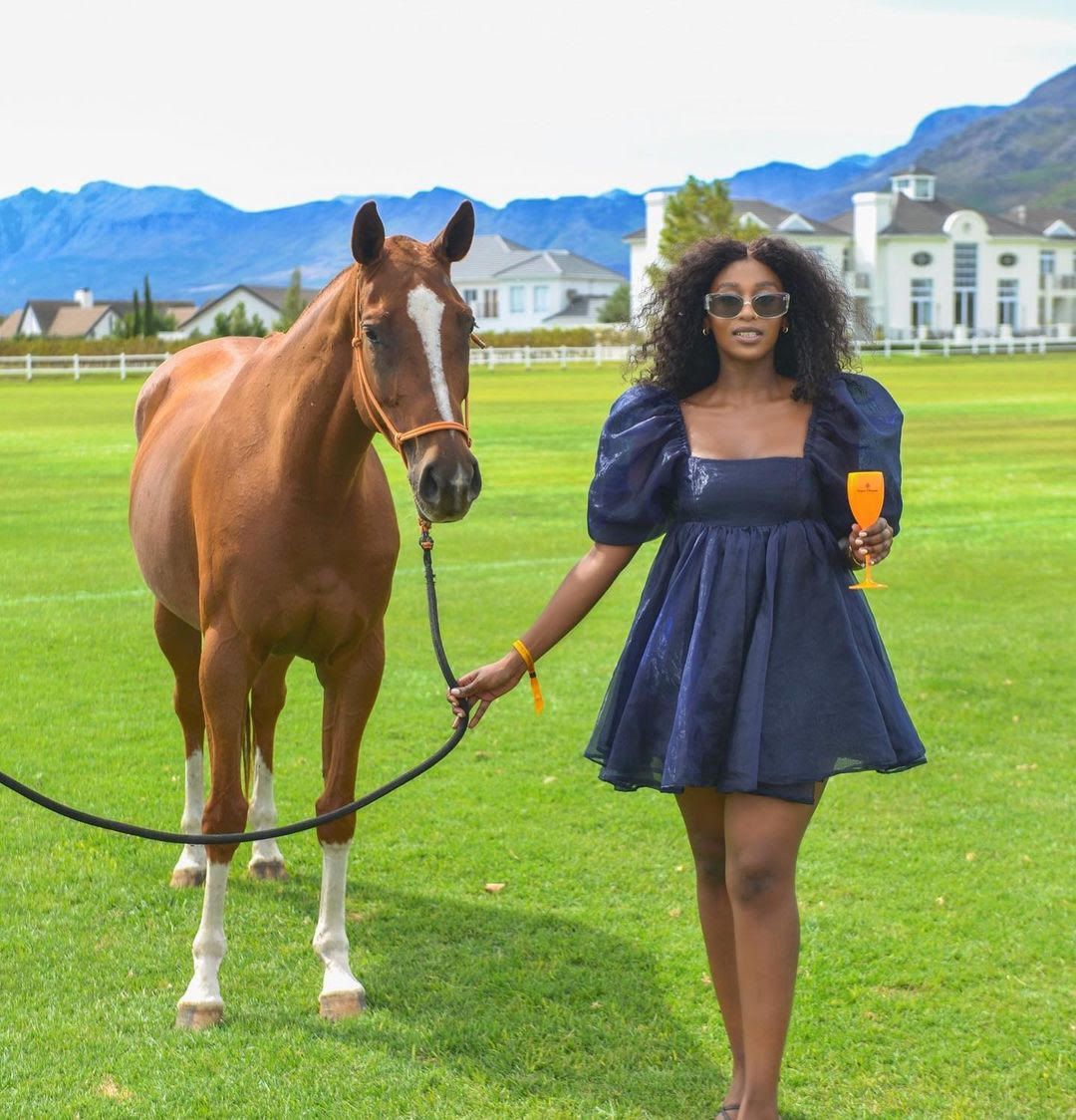 But as women's right advanced, they began to go for shorter and lighter options when attending polo games. If the match is taking place during summer, it's probably best to go for breathable materials like linen, lace, pastel hues and loose silhouettes. Unless you are guaranteed there will be a lot of shade, consider topping the look with a hat and a pair of sunnies. We love the puffy shoulder details and the square neck on  @nox_mafu's dress.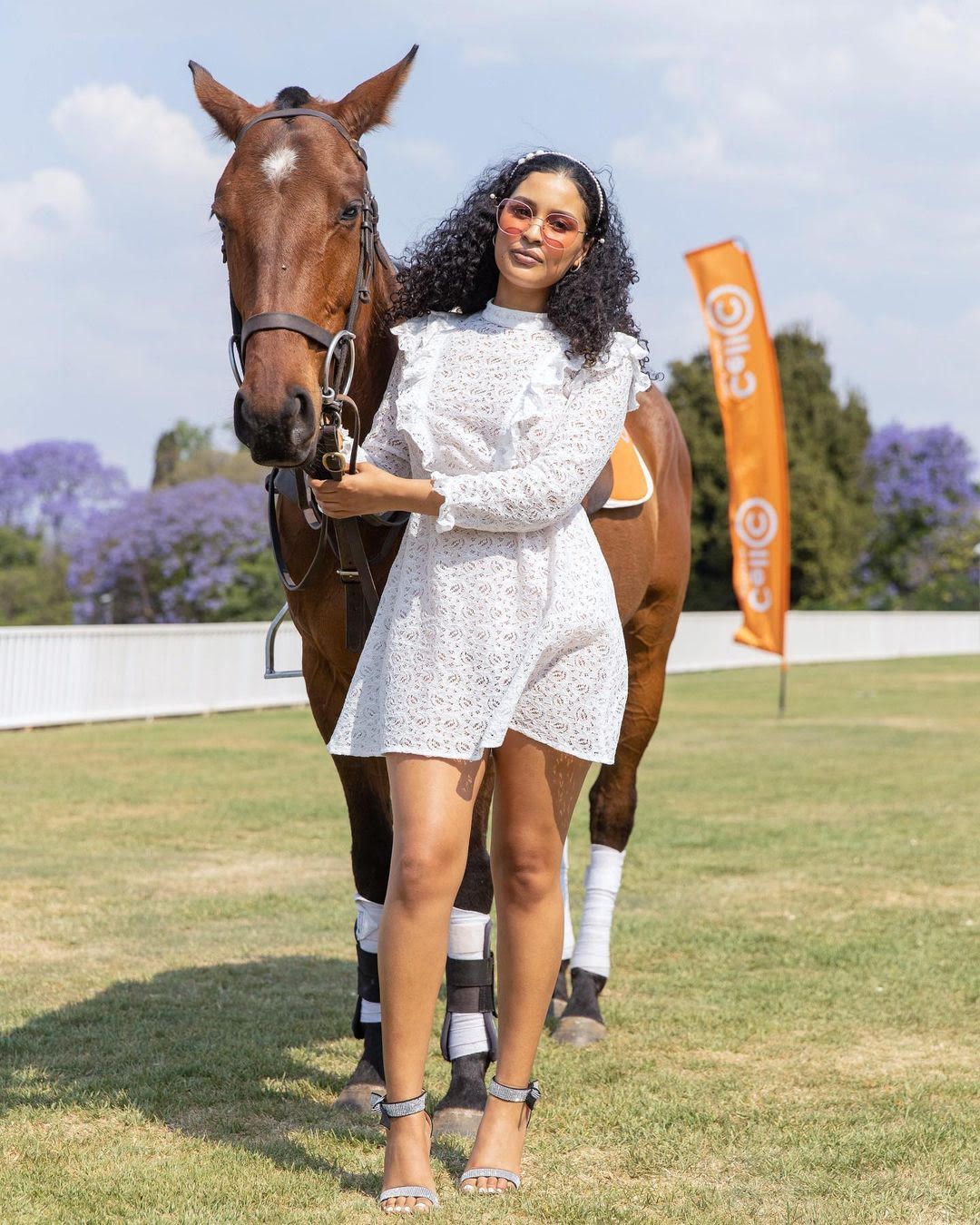 @missyrobertsxo is wearing a cute dress with ruffles going down the chest, high neckline and  floral patterns. For shoes, she has on a pair of open toes heels which is ideal for someone who wants to enjoy a cool breeze and the lawn while keeping it classy. 
Ruffle Maxis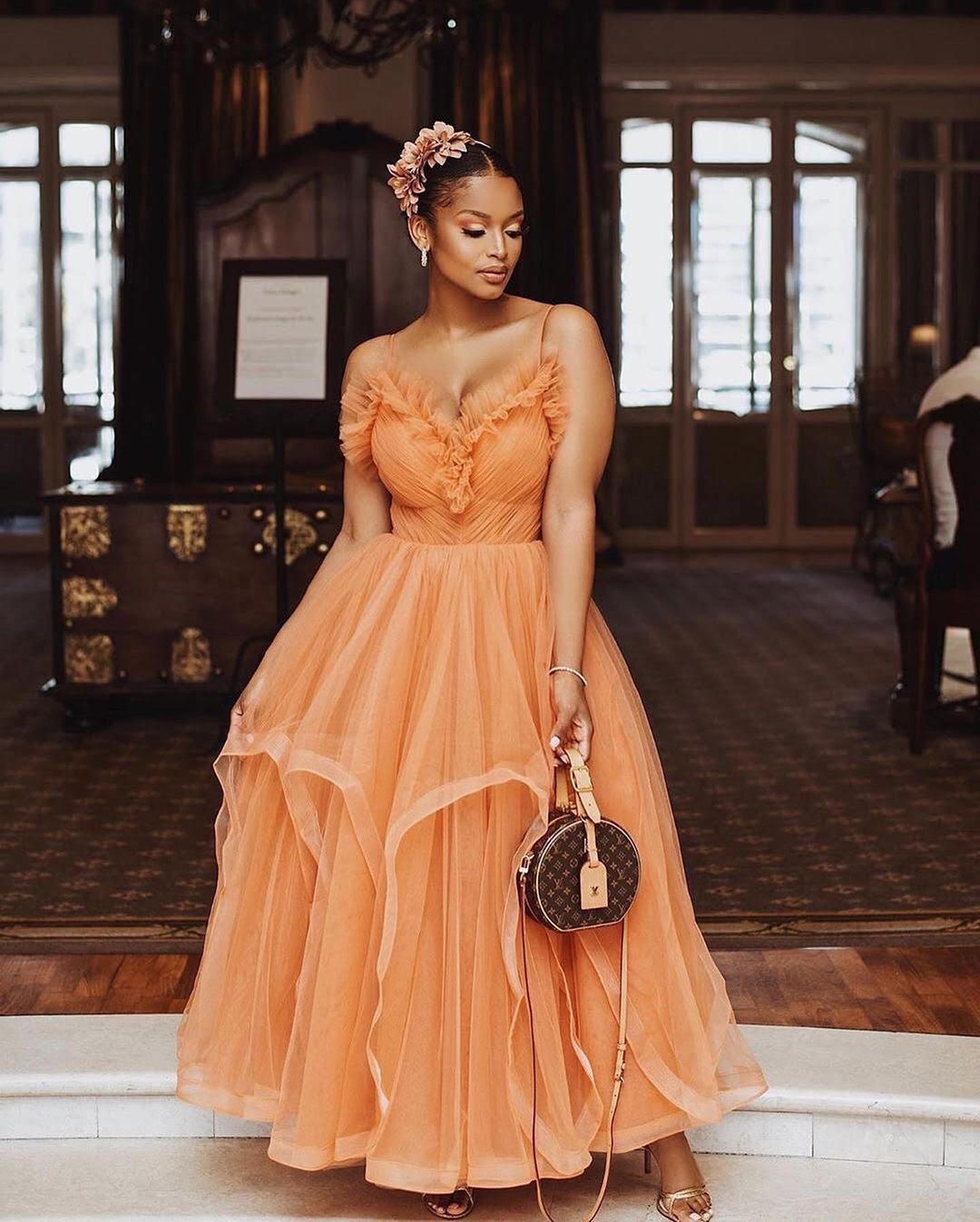 Colombian-style ruffled maxi dresses are also popular for polo matches especially when the weather is warmer. @ayandathabethe_ has on a long classy net dress with ruffled details around the bust and different layers laid throughout the bottom. A closer look reveals a matching floral head piece and graceful makeup.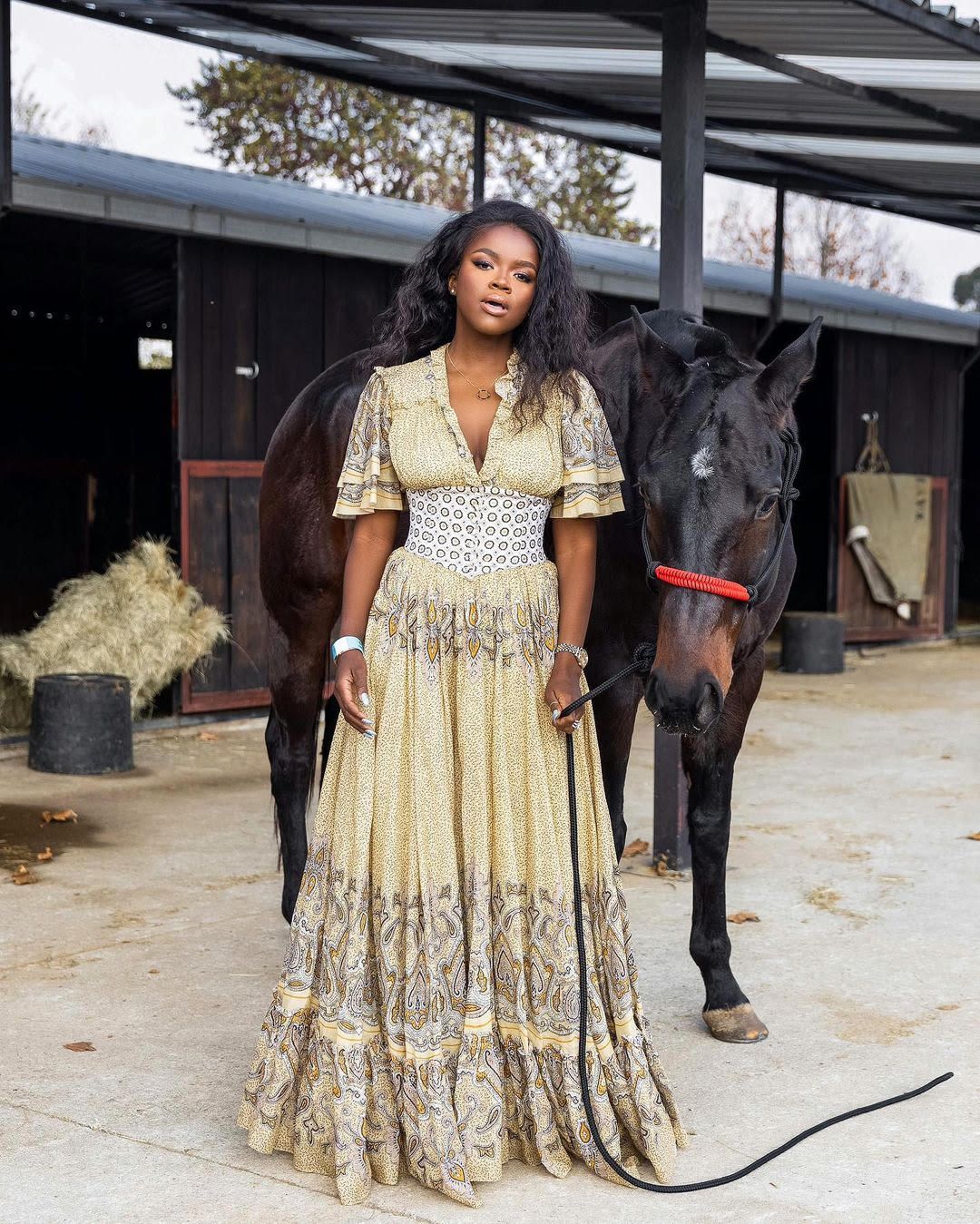 Looking as classy as the royals is @ilovemelmo wearing a printed full lenghth cotton dress that's hugging her waistline and has tiny ruffle details on the neckline. The girlier the better and you can never go wrong with a maxi dresses since you are surrounded by grass terrain.
Off-white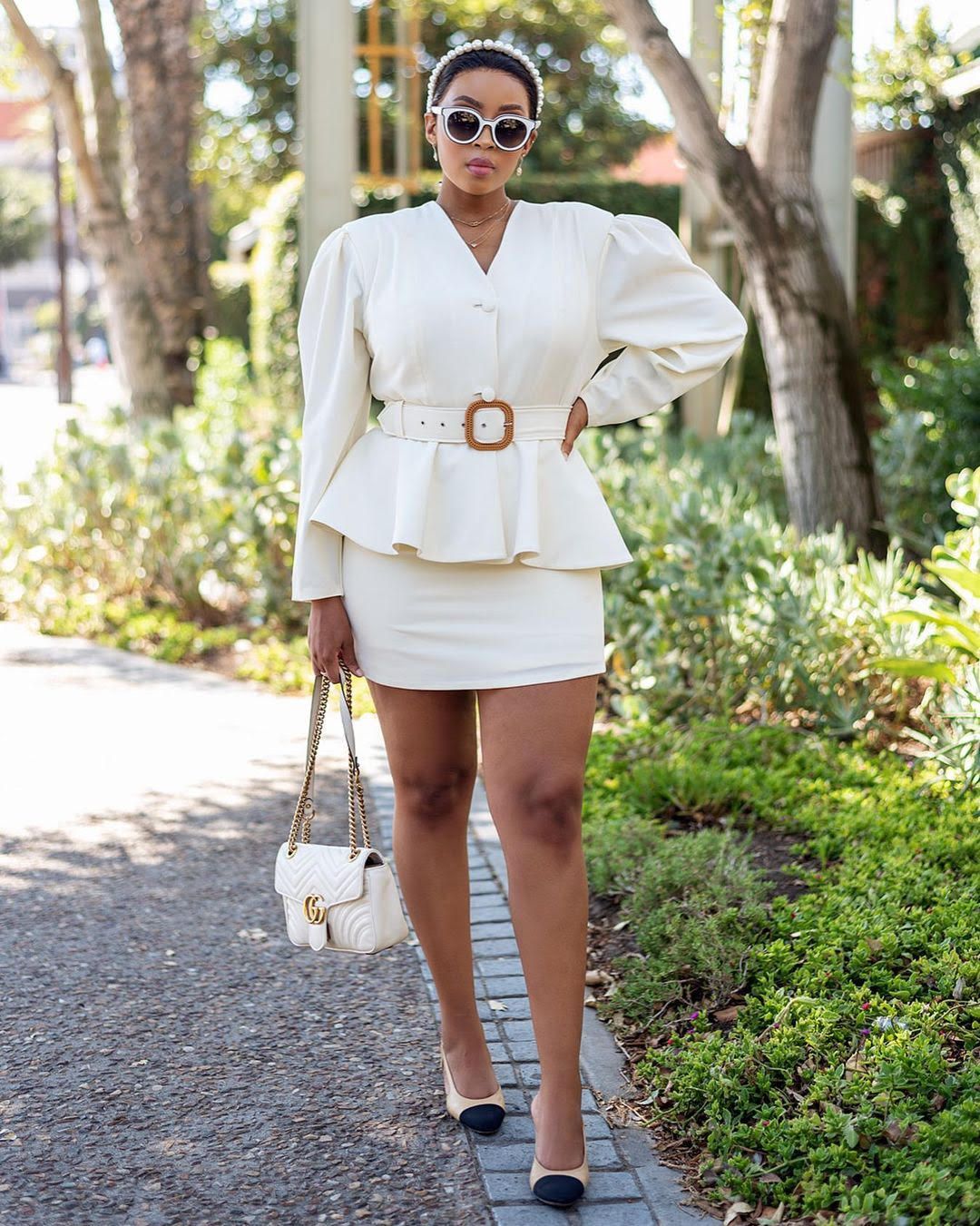 With more iterations of the skirt suit flooding the fashion industry, we're ready for this hot-outside-cool-inside dressing conundrum. To achieve this powerful and ladylike look, you can wear a belted white peplum suit jacket with a matching mini skirt making your legs appear tall. Pair them with pale pink or nude leather block heels to wrap up the outfit with an elegant touch.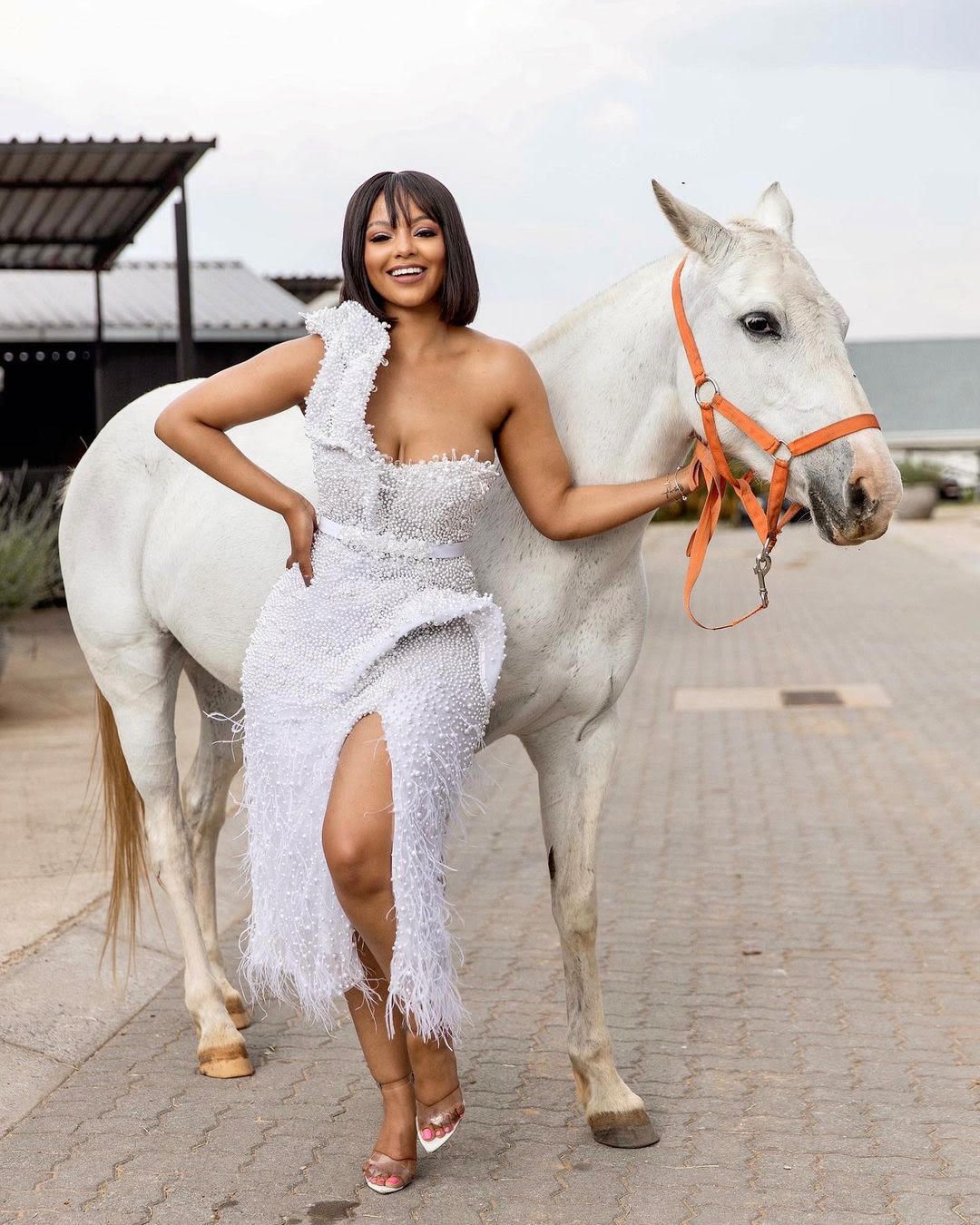 Outside the polo action, one needs to experience intimate bonding time with the horses. Dripping in pearls and opulence is @mihlalii_n in a one shoulder dress with delicate ostrich feathered details and an up-to-there slit with cascading ruffles. It gives off a fun, flirty look - and who couldn't use more of that!? To complete this look, pair the dress with moderately high heels and as minimal accessories as possible.
Polka Dots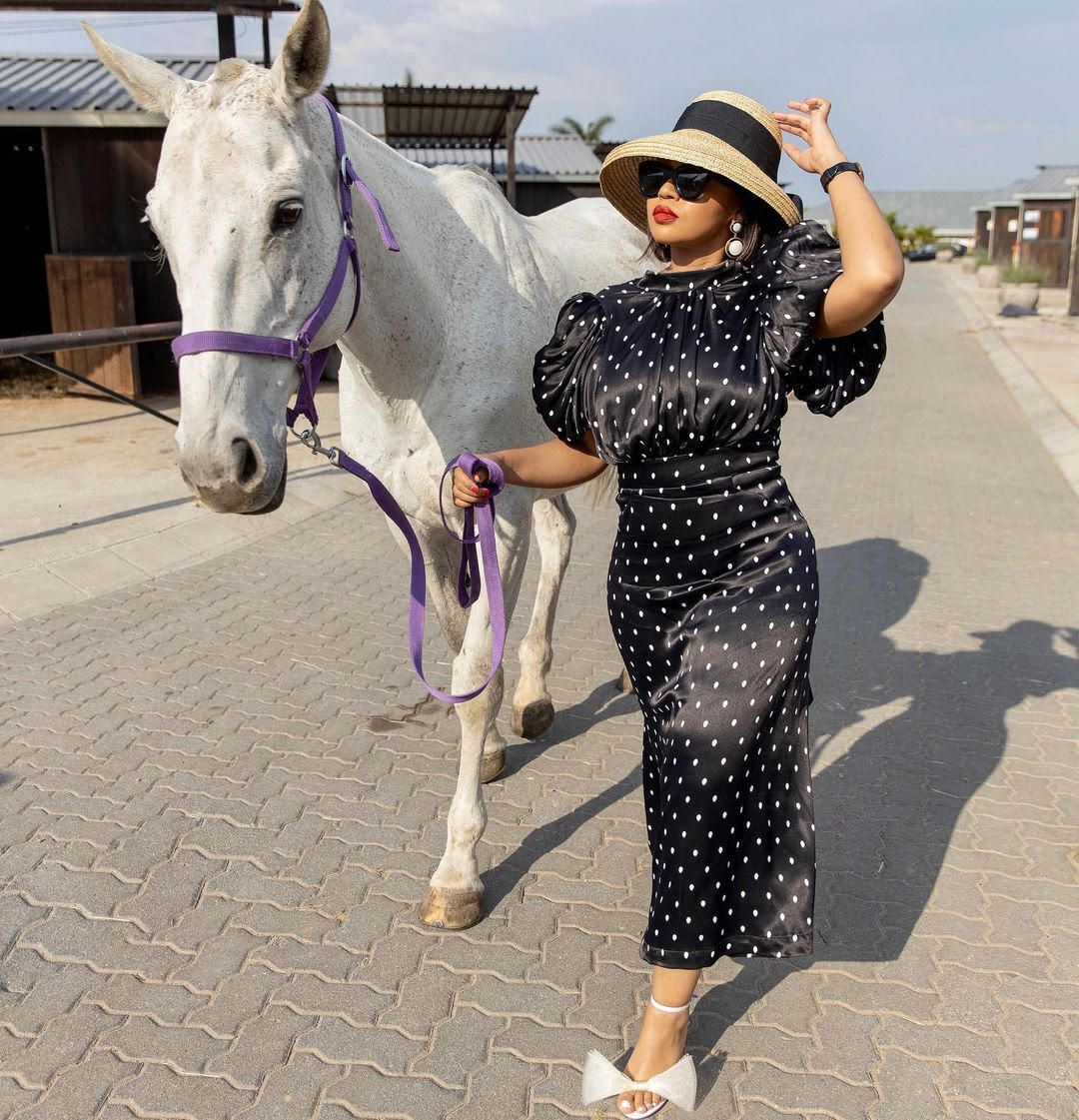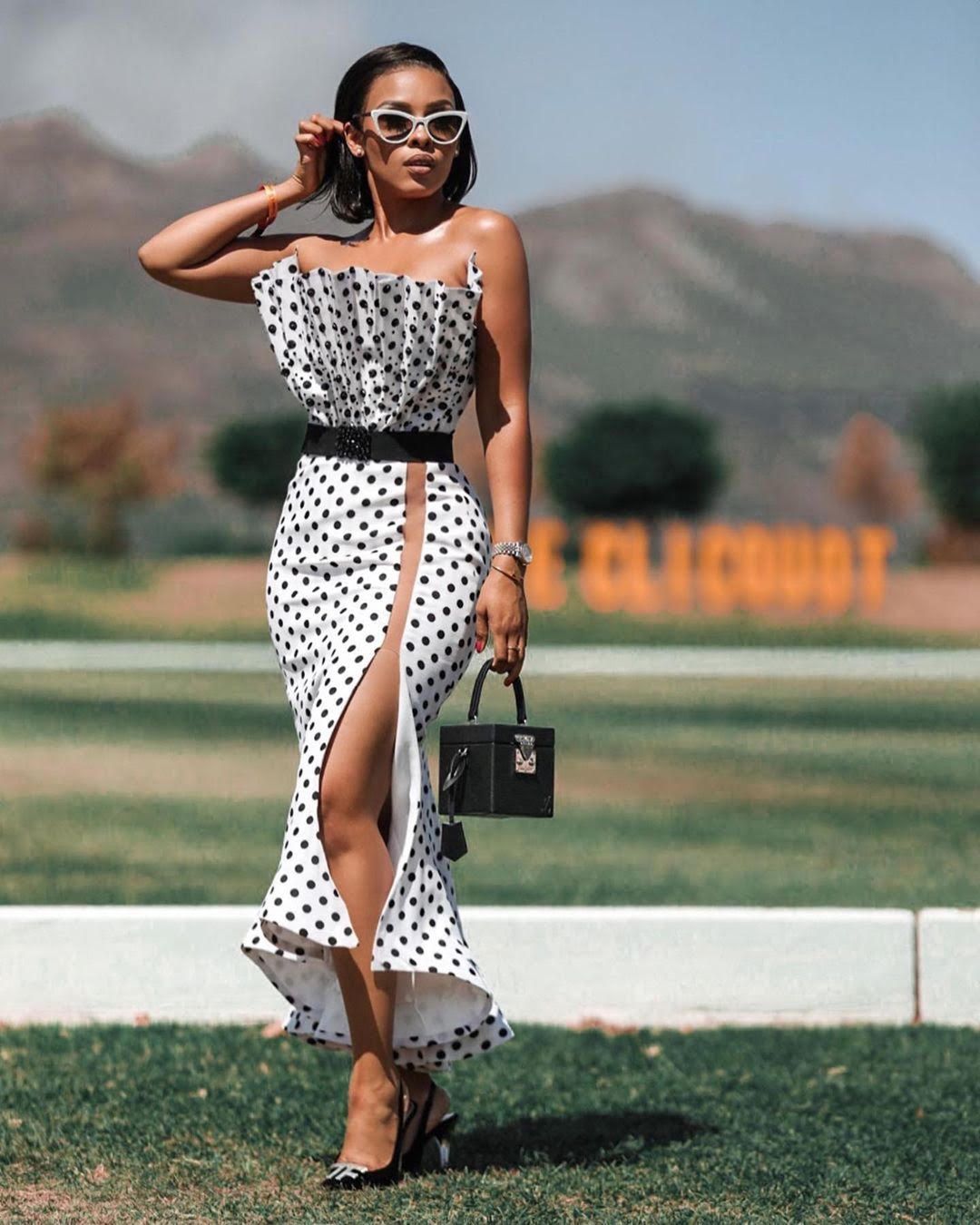 While black outfits are not as suggested, a little black-and-white polka dot dress will surely be captivating. Stealing the spotlight is @kefilwe_mabote in a figure-hugging bodice augmented by a unique off-shoulder design while @siyabunny is coming through in a silk dress with moderately puffy shoulders topped with a straw hat and sunglasses. Very sleek, modern and gives vibes of a full cruise-vacation style. Options for polka dot dress designs are available in almost any store near you.   
Let us know about your favorite looks through our socials @thepicnicsite_ke. You can also follow the calendar for upcoming polo events  here