Ngare Ndare : The Magic A Little Far Away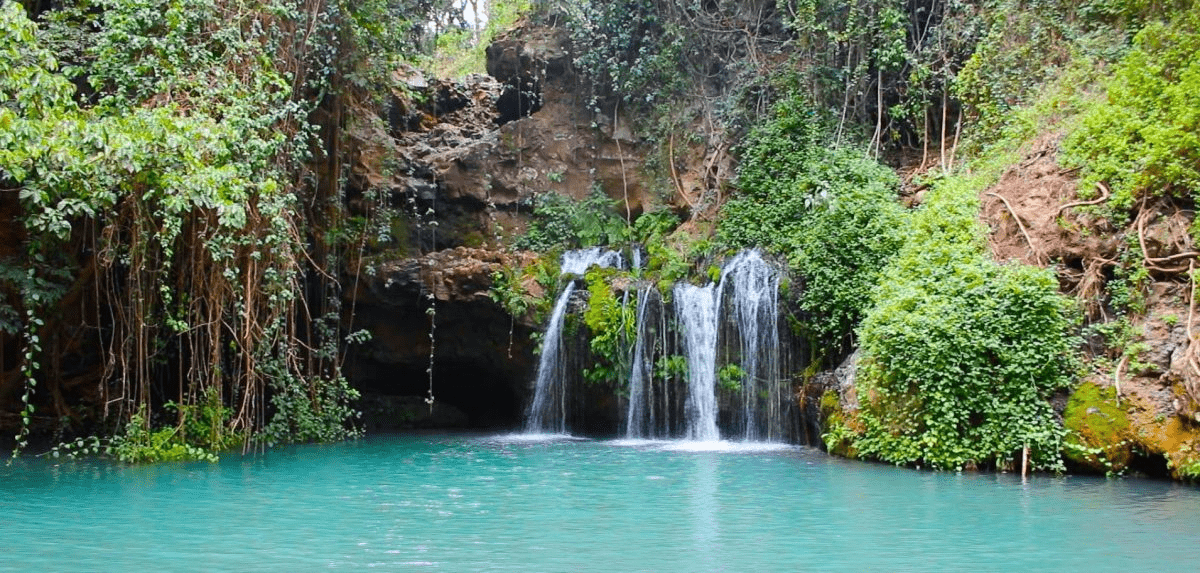 Ngare Ndare! Goat waters. That is the lose Maasai translation of the name. It is a forest domiciled at the foot of Mt. Kenya and among the few Kenya's sites that pride themselves in being in the coveted UNESCO's list of world heritage centers. With rare indigenous trees, some as old as 200 years, rolling azure waterfalls glistening in the sun, rock pools at the bottom of the falls and bordering two conservancies, Lewa and Borana conservancies, it gives you firsts priority experience of not only enjoying its offing, but also explore the fairly virgin North of Kenya. It is one of the corridors that opens to the Kenya North that for years hasn't been on the mentions of places people want to visit, but recently has attracted lots of traffic from thrill-seekers. 
There are two routes to get you to Ngare Ndare if you are travelling from any other part of the country save for the North. Both, long stretches of well-maintained rolls of tarmac bracketed with scenic countryside beauty. You can either go through Timau or Nyeri through Karatina, on this route you spear right into Mount Kenya forest, cascading valleys and ascending hills as you chase the sun—if any because it is cold most times of the year. Plus, the trees canopy at the top with little sunlight penetrating to the ground. Through the Timau route, you shoot through acres of tea plantations, several horse stables and camping sites along the way. For photography lovers, the light and background are endless for you to exploit. 
Why should you visit Ngare Ndare then? 
The Road Trip Experience
It will be pointless to belabour this, but just so we overarch the point, on the Timau route, stopover at Kisima Stable to learn and try horse riding. Park by the roadside and view the snowcapped Mt. Kenya on a next-door near experience.  While using the Karatina route, stopover at the great Sagana. If you have spare time, water rafting is something you may want to try. For both routes, plan well ahead, consider the weather and call the places you'd want to stop over and make it a memorable experience. 
Camping.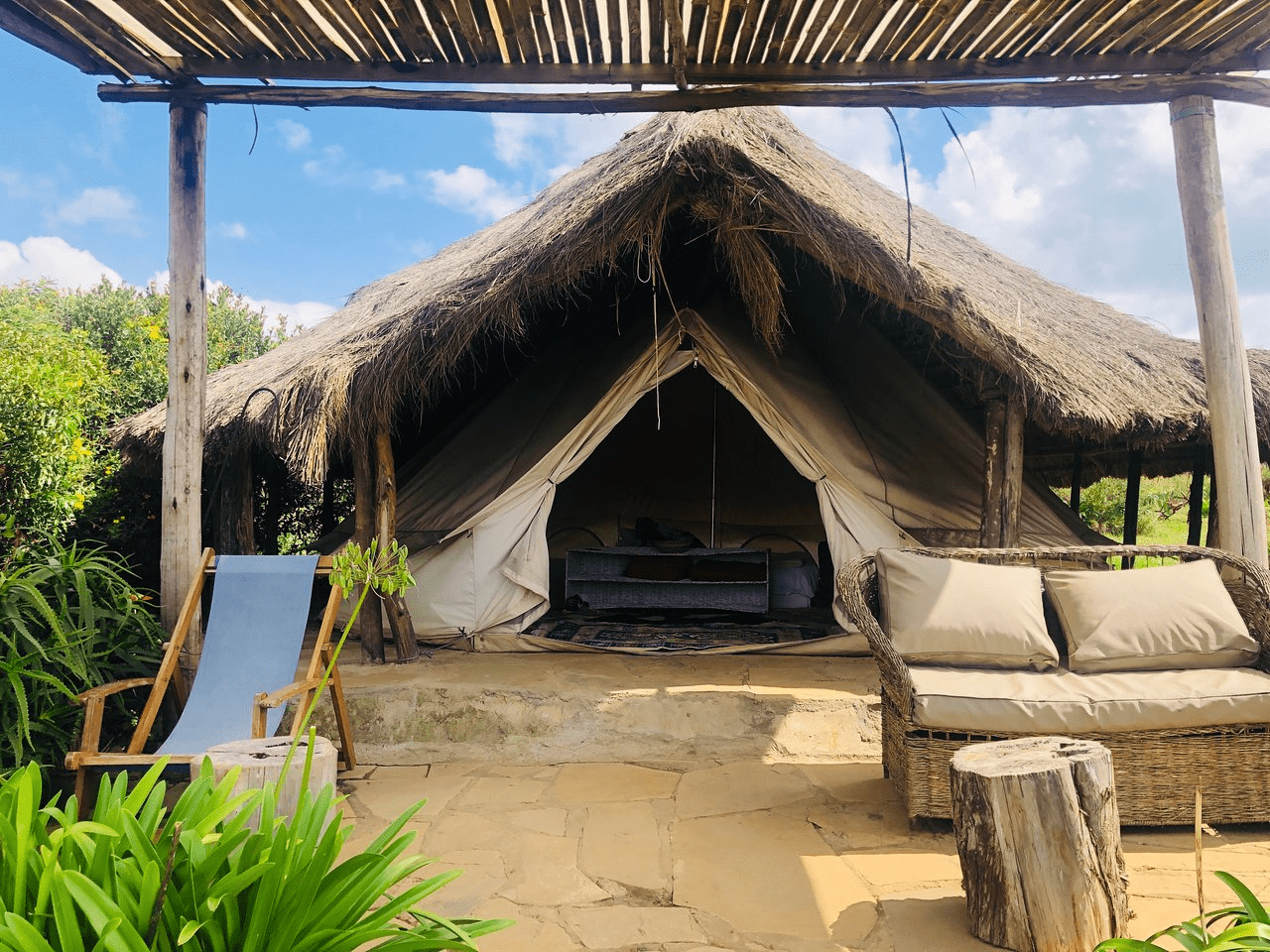 Would you love to spend a night or two in a tented camp blending the past and present? Sieku camp offers you thatched tents for pocket change. With modernized facilities in a traditional setup. For a place that has high end hotels, finding a camp that has a double tent for below 10,000 a night is a high wire act.  There are several other camping sites that you could pick from, Ngare Ndare Forest Park, Kentrout Grill and Camping, Entalata camp and more. 
Canopy walk.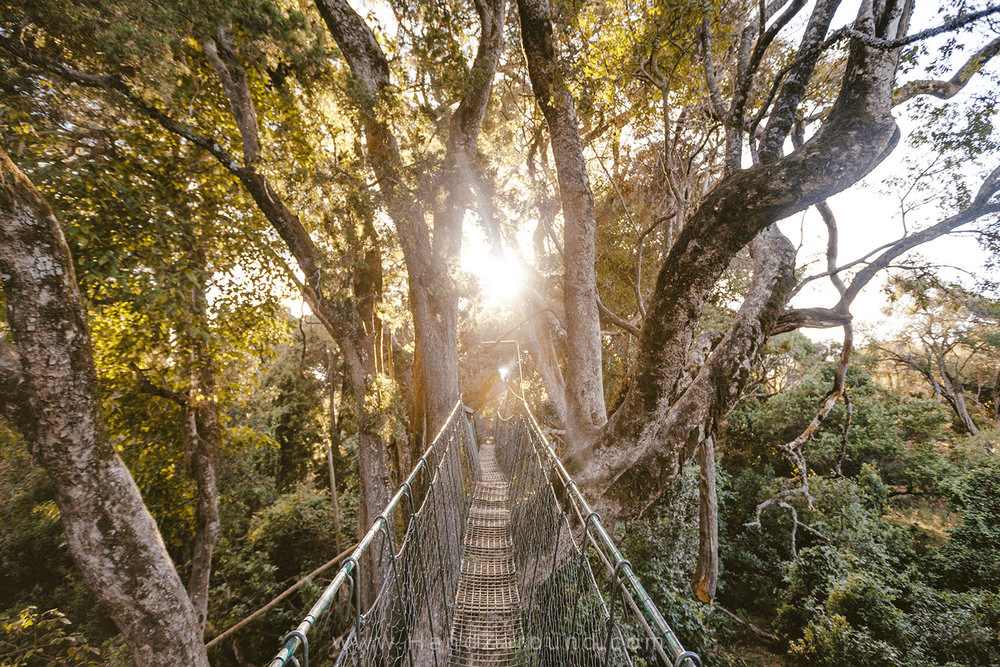 Forty feet up, 450 meters long. If you walk on this suspension bridge, you will dwarf the trees you thought were tall on your way up. It is like walking on top of trees. Superman powers even for just a short while. It gives you a bird's eye view of a large portion of the forest as most trees are towered by the meshed walkway.
Cliff Jumping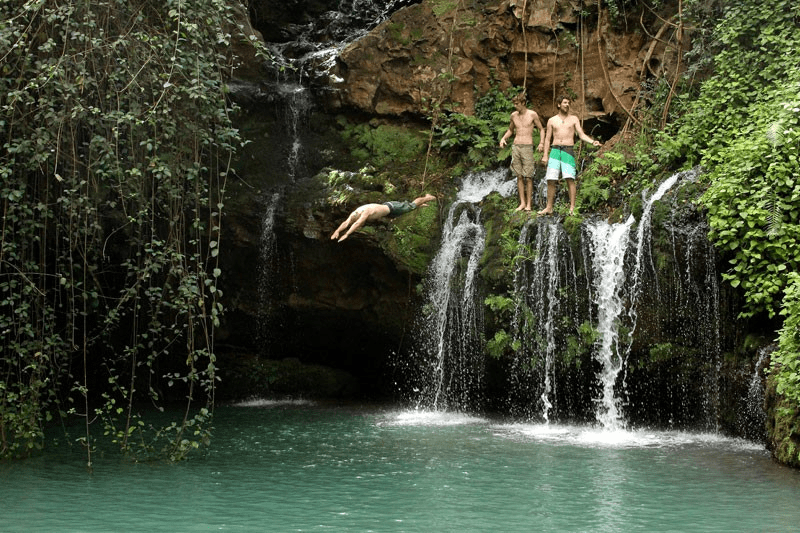 You can kill two birds with one stone here—rock climbing, and cliff jumping. Toss yourself into the marvelously blue water under water and bathe under the waterfalls. This is ideal mostly in the dry season as the water levels are low and clearer. This is the azure falls and rock pools we talked about up there. This being a guided activity, you are assured of safety as there are onsite KWS wardens and divers in case of any accidents.  
Nature Trailing  
You will meet face to face with some wildlife and birds as you snake around the trails in the forest. Great for photography and exercise, these nature trails hikes are guided tours as the wildlife might pose danger if they sense any threats in their habitats. 
Explore the Lewa and Borana Conservancy
For years, the Lewa Conservancy has been known as the kraal of conservation in the country, helping to ensure posterity or at least delay total extinction much longer for most of the critically endangered species. The Grevy's Zebra is one such species Kenya is currently home to 90% of the world's population. Which is 2,350(it could differ as this is per the last census). Visiting and exploring these two and many other conservancies in the area gives you a front-row experience on the conservation efforts put across the country and the world by government agencies and other partners. It will also make you appreciate the diversity of nature that would otherwise not be present if not for these efforts.
Ngare Ndare is one place you should visit.