It Is Omanyala's Time, We Are Just Living In It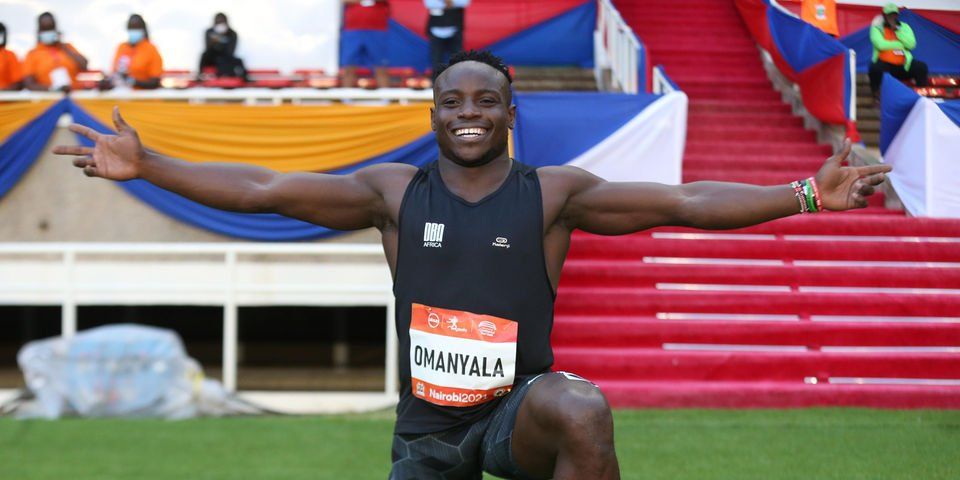 Did you read that right? It is his time, we are just living in it. His gait on the track appears motorized. Like there is an extra power- an above human strength that pushes him. Not ordinary carbs. His frame is perfect to a fault. No. Not like he works out daily. Like a skillful carpenter chiseled bits of flesh from his toned muscles. His signature end to all his races—and they have been many lately, is to kneel either on the track when he is not on the top three or next to the time board when he is smashing records. And he has done that one too many times. He has broken his own records five times. And he is not settling in. He says, he is just getting started.
Born on the second day of January 1996 in  Bungoma Kenya, to Fred and Shikanga Omurwa, Fredrick Omanyala Omurwa, cut a sporty figure from his early days. At Kamusinga High School, he joined the school's rugby team and earned his place barreling through human walls with the inkling of a pro. At school, while playing rugby, he was as dedicated on the field as he is on the track. He later joined the University of Nairobi to study Chemistry.
Then he grew hair, thick and tuff. And hair was not the only thing he grew. His talent did too. In 2015, he started what we could call the big swing. The power of the track began to exert its tug on him. Lithe and wiry, wound up his rugby interest and started competing in athletics. The following year(2016) he announced his arrival at the Kipchoge Keino Stadium and beat seasoned competitors. Omanyala had arrived. Omanyala's time had come.
In 2017, he represented the country in The Bahamas at the World Relays where Kenya reached the finals. He would have participated in the World Games Universiade in Taiwan, but a severe back injury pulled him out of the competition as if with a rope. The bug had not lost its kick yet, and he believed he would go back to competing soon. He speaks with fondness of what happened next. "I sought treatment for my back. At some point, the doctors gave me a painkiller that had steroids that I had not declared. That would have ended my career. What's interesting is that I can't remember the name of the painkiller." Says Omanyala. He was banned from actively competing for 14 months for doping but the matter was resolved and in November 2018 he made a return to the track.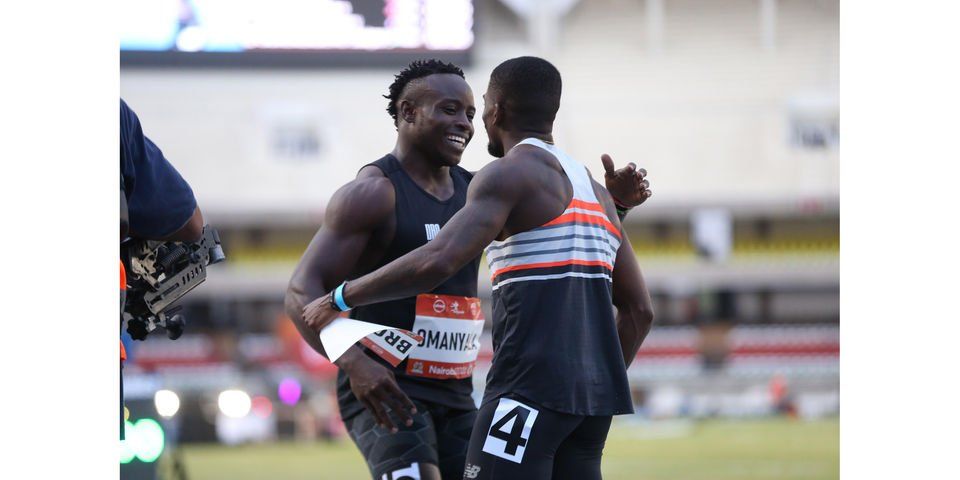 He makes winning look easy. He announces after every race what he wants to achieve in the next. On the sidelines of The Tokyo 2020 track, a sweaty and panting Omanyala excitedly told reporters that his biggest inspiration on the track is the American Justin Gatlin the Athens 2004 Olympics gold medalist. On the final stop of the World Athletics global tours, the Absa Kip Keino Classic, Omanyala. crossed the line by 0.26 seconds ahead of Justin. That was him beating sharing a track with his hero. Him beating his hero. Him, being the hero, especially on home soil. Him being cheered by the president and going ahead to get a shoulder bump. "I am glad that I promised a sub-10 race. I delivered it by the grace of God. " Omanyala said. His 9 76 record time makes him the 8th fastest man on the dash of all time and Africa's new record holder for the race. "I will work on my starting to create better chances for me to break even more records. This meant  a lot to me especially being on home soil and being the last tour this year." He told reporters excitedly.
So while we still can, shall we give the man his roses. A hero is writing history. Give the hero his flowers. This is Omanyala's time. We are just living in it.