Five Chic Airbnb Rentals in Nairobi for You and Family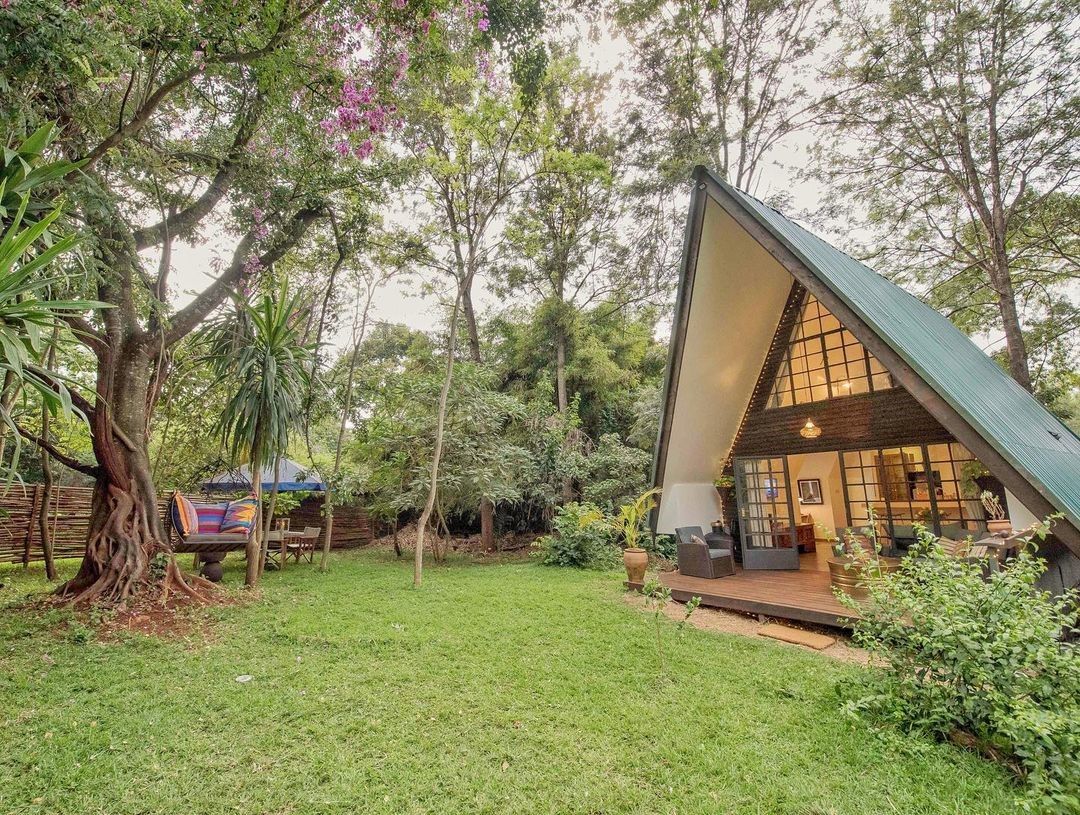 You want to have a quick place you can while away at, maximize your experience without the worry of not making it back to the city in good time? How about you have an out-of-town experience within the city with family? This list gives you some of the best Airbnb's to consider for that an unforgettable in-Nairobi experience!
Koven Kottage
If you are a person who loves a mix of intimate and loud interactions, then Koven Kottage should be on your bucket list already.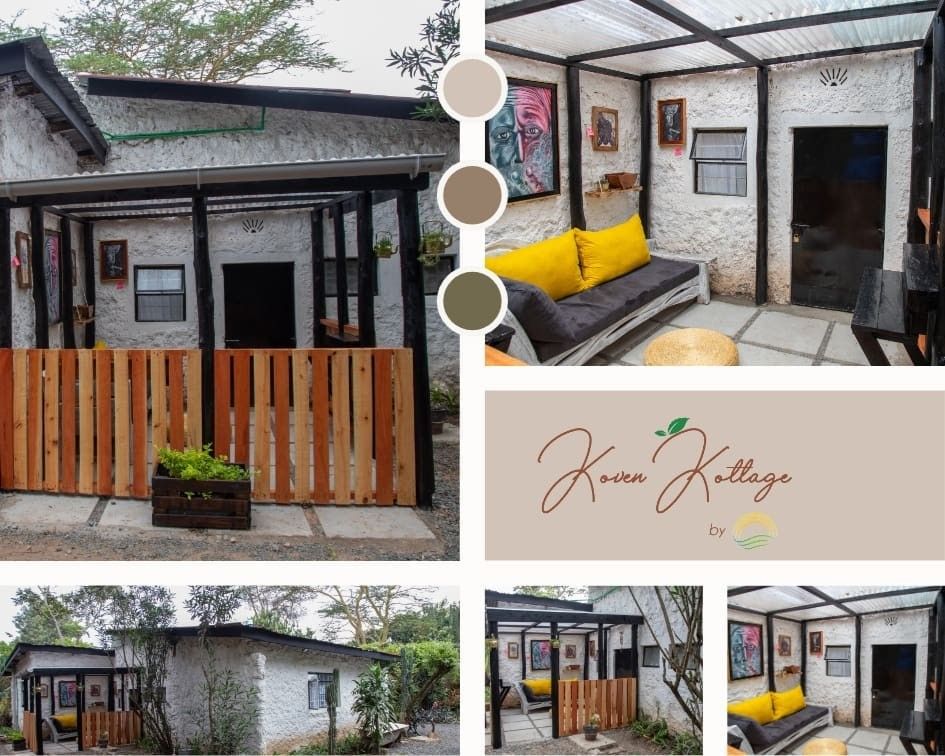 Located in Karen is this 4 bedroom cottage that combines rustic and contemporary furnishings for the utmost luxurious feel. The entire house is let as a single unit to a maximum of ten people or as individual rooms whose capacity vary from single occupancy to double. There is a common living room, kitchen, and separate bedrooms of which one has a pergola overlooking the garden. The rates are at $200 per night for the entire cottage.
The most impressive feature about this house is that it has two gardens- at the front and the back, big enough to host utmost fifty people. For the ultimate experience, there are tents that are also rented out on per person sharing basis. Additionally, there are provisions for outside sitting where visitors can enjoy boardgames like scrabble, chess that are provided as complimentary to visitors. This maybe that place to take the family for a weekend gate away for a bonding spree.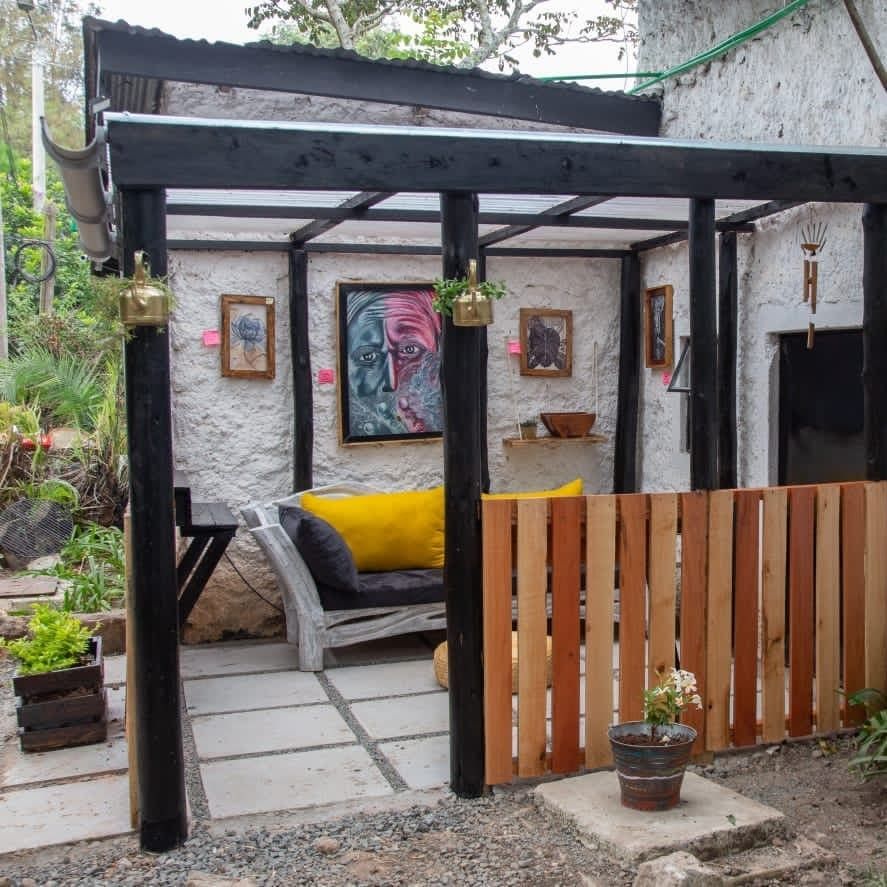 The house is about 5km away from Nairobi National Park and is near other important facilities such as Galleria Mall. 
Most definitely a great place to host outdoor picnics and still staycation for some undisturbed cosiness with your loved ones.
Dik Dik Creek
Out of town on a budget? Well, Dik Dik Creek is your answer.
The Dik Dik Creek is in Ongata Rongai n within the larger Nairobi Metropolis. Here you will kill two birds with one stone, one, enjoy a mini road trip while you sight a variety wildlife which will interest younger members of your entourage and two, the promise of a restful stay not very far away from the city.   
 This private cottage also has a rustic furnishing to create the perfect combo with the surrounding nature- acacia trees and a river. It is almost like the rustic element used in all the cottages make feel authentic and classy.
It is a one bedroom establishment designed to accommodate a maximum of three people with two beds which maybe ideal for a family with three members. It has an open kitchen and large windows that open to the forested garden surrounding it. The rates are below $100 per night for the entire house.
You can sit around the fire pit in the evening, walk along the river or visit the Nairobi National Park that is 3.2km away. 
The Nairobi Dawn Chorus
A treehouse in Nairobi! How cool is that?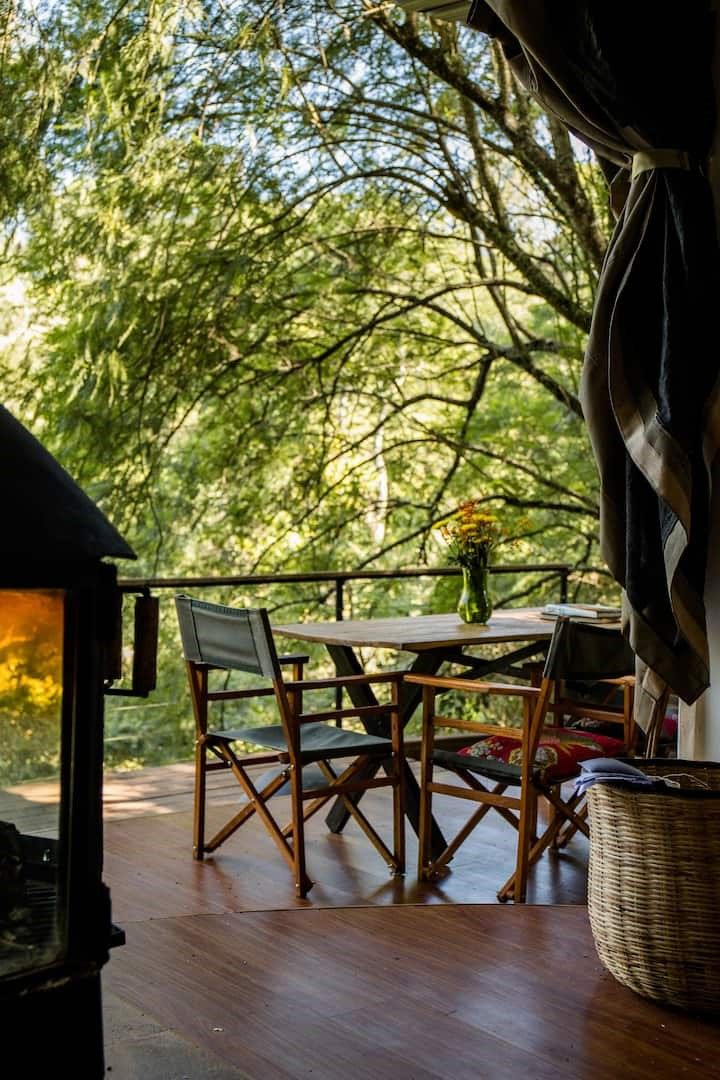 Located in Spring Valley, Loresho, is this open plan one bedroom tree house suspended amongst gigantic trees overlooking a river. The design focusses on wooden lounging areas complete with a fireplace, swinging chairs and a dining table.
Mind-blowing fact about this establishment is that it was built as a children's play area and has morphed to become a retreat place for small family visits for people living in or visiting Nairobi. Sure, people who grew up in villages and enjoyed tree climbing can relate with the vibe this place oozes. Here, you have a perfect opportunity to enjoy fresh air, birdwatching  as you teach the young ones a thing or two about trees and nature.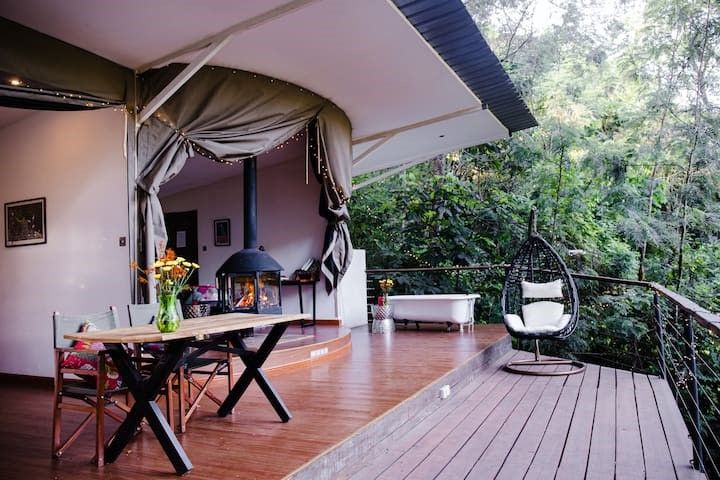 The house has a double bedroom that overlooks the deck—ushering you to a scenic foresty view, an open bathroom space with a rain shower, an outdoor freestanding bathtub, a small living room area and a swimming pool in the compound. The rate for the entire house stands at $125 per night.
The flowing river below and the birds chirping in the trees make this property a perfect place to escape the 'chaos' in Nairobi or enjoy the suburb of the city. Activities that you coud enjoy together include nature walking, play hide and seek etc.
The A-Frame on Windy Ridge
Cabins in the woods blend so well with adventurous people and this one is a plus.
This cabin design was inspired by the traditional tent design. The beautiful architectural design has a huge roof that runs down to a few metres above the ground to give very high ceilings. The walls are very short compared to those of normal houses.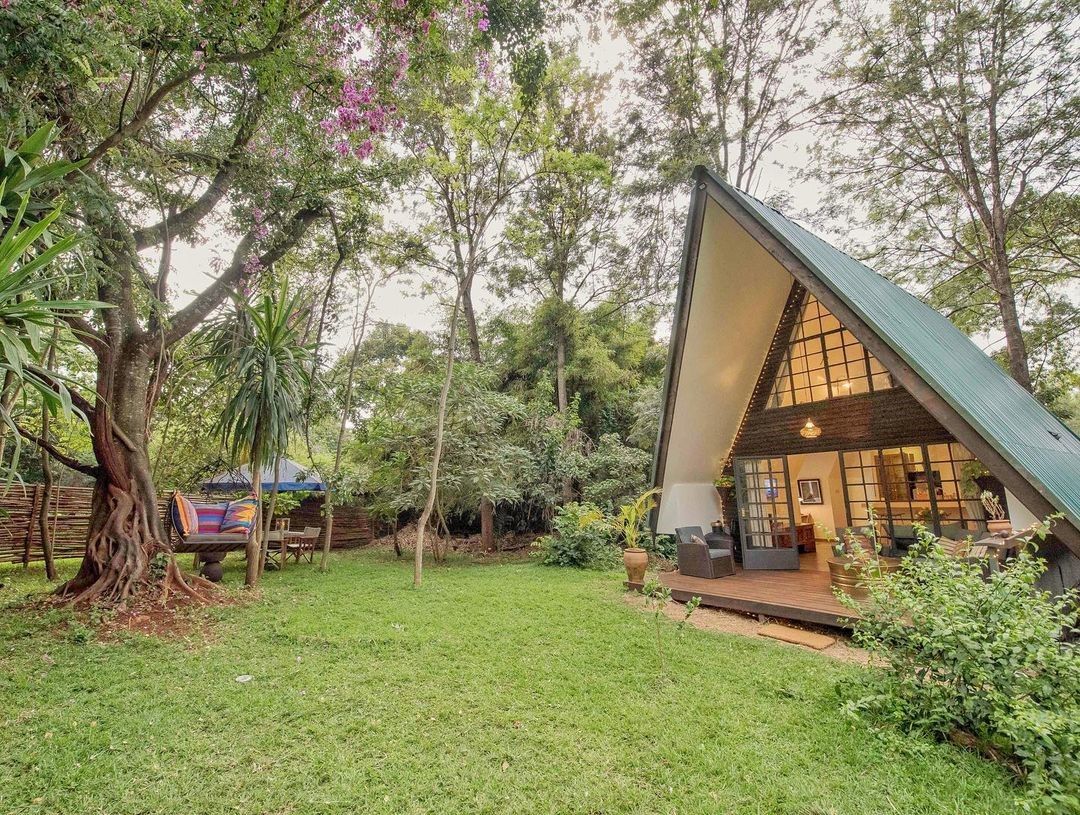 This one bedroom located at the heart of Karen sits on a four-acre land accommodates a maximum of two pax. It offers modern rustic aesthetic living complete with a living room, equipped kitchen, and a front porch for evening chilling and watching birds about.  The outdoor deck overlooks the garden with colourful chairs hanging from a Fig tree. The property is near The Hub Karen and Waterfront Mall for your shopping for a great self-catering experience.
If you love nature and romantic getaways, then this is it. 
Par Kwe
Last, is this marvellous home away from home is Savannah Garden, Kajiado. Kajiado, like Ongata Rongai it is in the Nairobi Metropolis.
 The interior decor and theme are eclectic Afro Chic with a rustic feel to all the furnishings. The vast property has a main house- 5 bedrooms and three cottages in the garden. The cottages are Iliki at Par Kwe, Amani at Par Kwe and West House at Par Kwe. They are one-bedroom cottages that accommodates just two guests. The main house hosts a maximum of nine people, and the rates are on a bed and breakfast basis. The rates go as low as $35 per person sharing per night.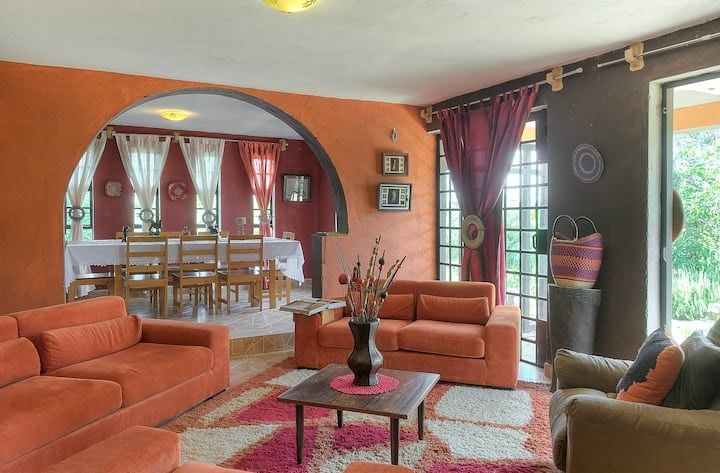 You will be amazed that this property has a 3000-book library. With a variety from children to young adults to adult books. You get to lounge with the family in the library as everyone enjoys a book. Fan activities here may include but not limited to family cookouts.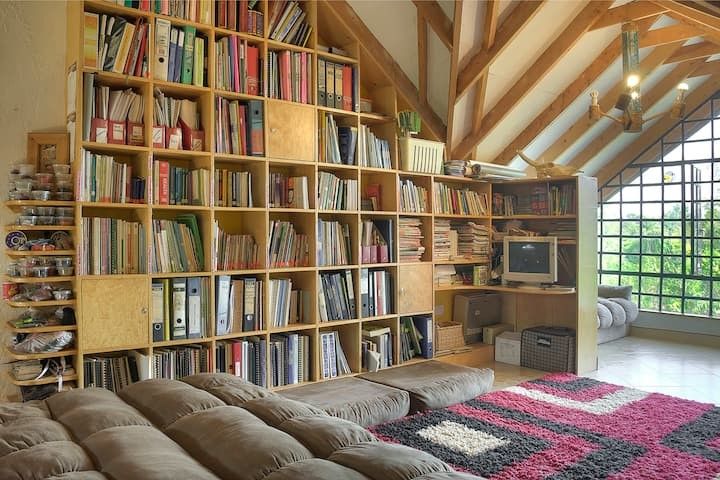 From large family lounges in the main house to cosy private cottages, kitchenettes in the cottages, indoor and Al fresco dining areas, indoor fireplace, outdoor fire-pit, TV to a big well-furnished main kitchen. 
 Great place for hiking in the vast Savannah Land and the Ngong Hills which is close by. 
Nairobi Giraffe Centre is 5kms away, Matbronze Wildlife Art 6kms away and Wilson Airport 11km away.
There! Is Nairobi still a jungle of skyscrapers? Maybe. But Nairobi is a beautiful destination to take that staycation and lose yourself in nature.