All You Need to Know About Rhino Charge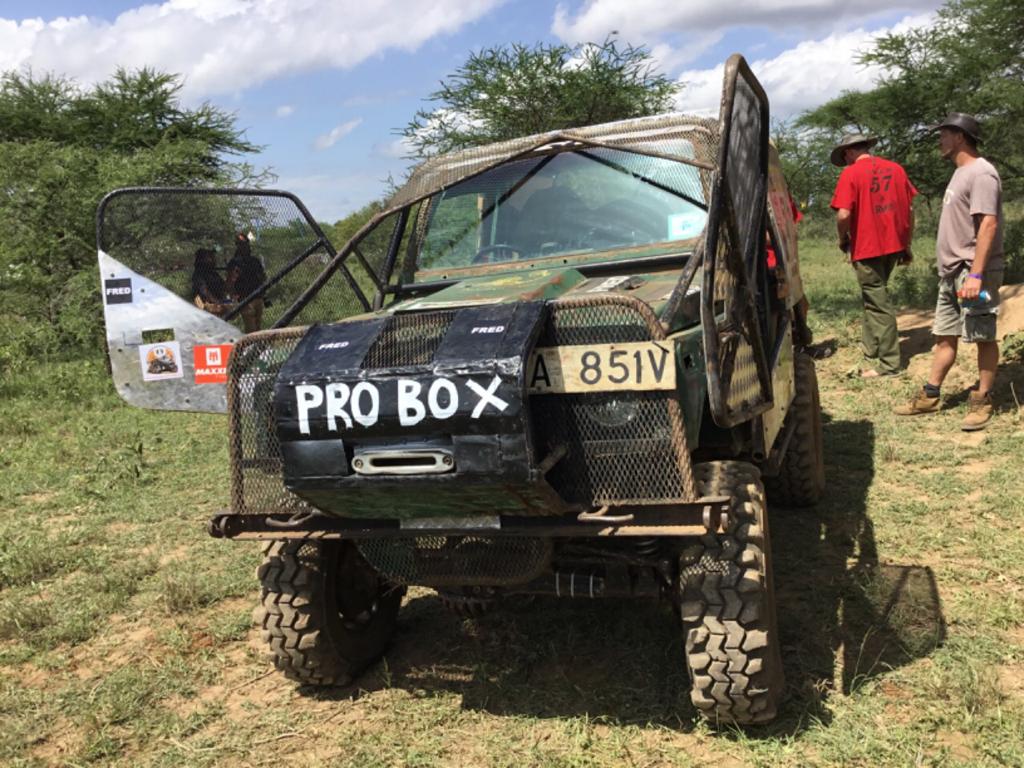 You have heard about it maybe or maybe not. The Rhino Charge; an annual off-road 4×4 competition held in Kenya that raises funds to support the activities of the Rhino Ark Kenya Charitable Trust. It is a one-day off-road event that involves a maximum of sixty-five competitors (65). They are required to visit thirteen checkpoints that are scattered over a rough terrain of approximately 100 square kilometers, within a ten-hour period. Armed with a map, each team decides which route to follow, and the winner is the competitor who gets back to the starting point after having visited all the other checkpoints in the shortest distance. The distance is measured using a Distance Measuring Device(DMD), which is supplied by the officials. 
It is an exciting competition and requires bravery and a high level of off-rad skill for navigation. 
The event was first held in 1989 on 2nd February. It was started by the Rhino Ark, a charitable trust registered in Kenya, UK, and the USA.  The trust was founded in 1988 in response to the crisis facing Kenya's Black Rhino population in the Aberdares ecosystem. The Rhino, for a long time, have been under threat from poaching due to their valuable horn. There was also the human-wildlife conflict, where animals were crossing into farms and destroying crops, creating fear and bringing loss of lives and revenue. Rhino Ark was to assist Kenya Wildlife Service to build a protective fence around the area with the highest concentration of wildlife in the Aberdares.  The idea subsequently evolved into a more ambitious task of fencing the entire Aberdares conservation area with a game-proof fence.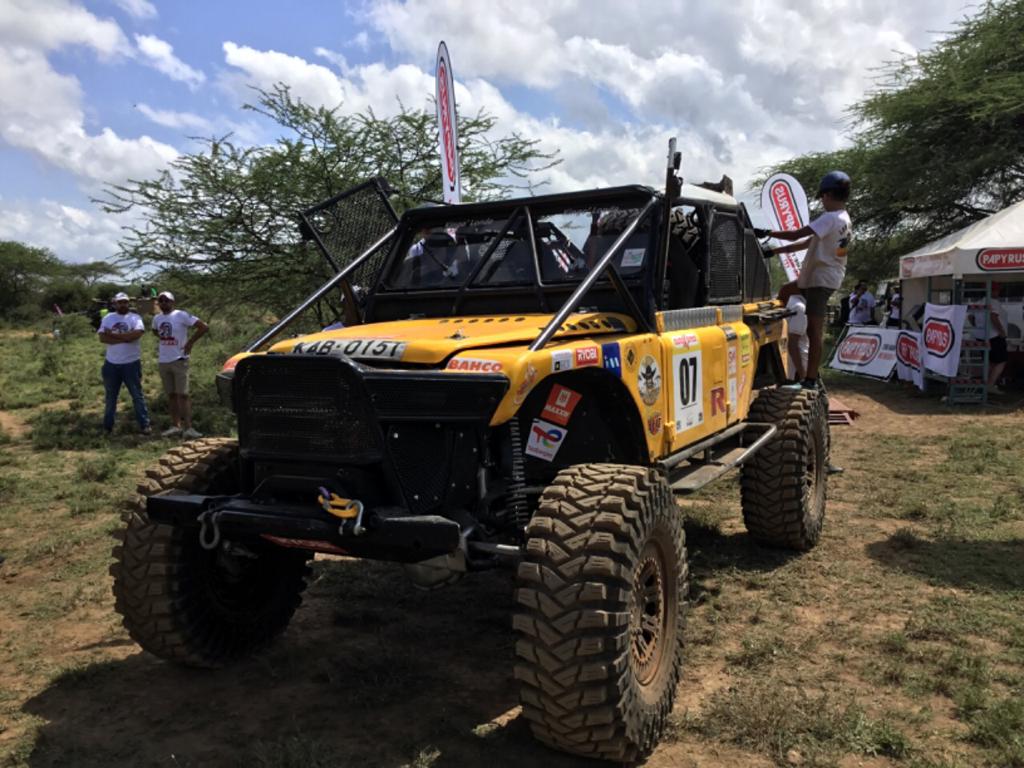 The fence, which is strong enough to resist animal pressure, is powered by electricity to keep wildlife within and to curb poaching and illegal logging. Its construction started in 1989 and was completed in August 2009. It was commissioned by the late former president Mwai Kibaki. Over the years, the trust has evolved to seeking sustainable, long-term solutions to challenges facing mountain eco-systems.  In 2010, Rhino Ark announced its formal commitment to supporting the conservation of other mountain forest ecosystems. The initial areas of focus are Mount Kenya and Mau Mount Eburu.
This is where the Rhino Charge comes in. The event's cause is to fundraise funds for the cause of forest ecosystems conservation. So far, a total of 1.6 billion Kenyan shillings has been raised, with this year's amount being Kenyan shillings 156 million. The first Rhino charge event raised only an amount of Kenyan shillings two hundred and fifty thousand, (250,000). These figures have increased tremendously over the years, with the highest amount raised in 2018. The amount was Kenyan shillings 181 million. Last year, an amount of Kshs 140 million was raised. All these funds go to the various eco-system support projects by Rhino Ark charitable trust, including funds raised this year. The event is organized by a main committee, and supported by various sub-committees, composed of Rhino Ark staff and many volunteers who bring a variety of expertise to the event.
This year's edition was the 33rd, and it was held in Mosiro, Kajiado County. 
The location is usually kept a secret, until the last few days to the event.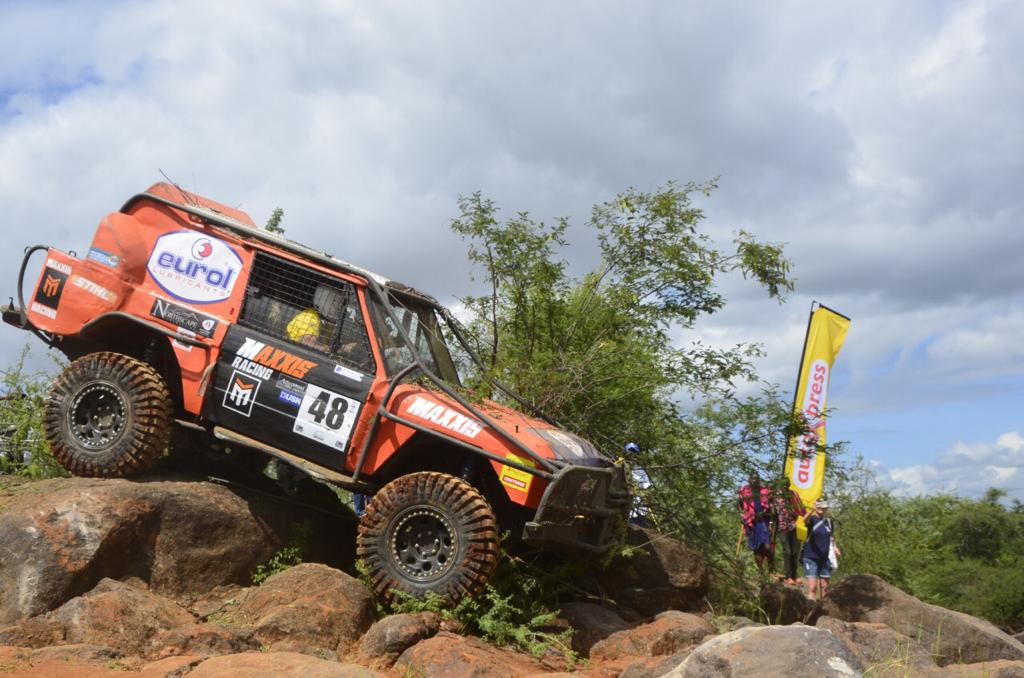 Tickets
The tickets are usually sold in an online platform. This includes paying for vehicle entrance and accommodation. There are different charges for vehicles depending on the vehicle capacity. The accommodation also varied depending on the number of nights, and whether it is self-camping. The choices are available on the online platform. There are designated camping areas for spectators, and there are rules and regulations governing these areas.
Due to the growing popularity of the event, which puts the host community and their land under increasing environmental pressure, tickets were introduced in 2015. Anyone who wants to go to the event must now purchase a ticket. This has helped in matters of comfort, security, and administration of the event. The measures have also ensured environmental friendliness. 
Each competitor has to raise some money to qualify for the race. There is a minimum amount set for competitors, and it is paid on a first-come, first-served basis. These funds go to the Rhino Ark. The money raised by spectator vehicle entrance which is known as Land Owners Access fee goes to the community, for community development and not for individual use. The land owners usually sign a memorandum of understanding with the Rhino Ark committee.
Benefits
Apart from the funds raised going to the conservation of Kenya's water towers' the communities also benefit from the land access fees.  They are also encouraged to sell their merchandise at the entrance gates. Patrons also buy goats and sheep from the local communities. 
Winners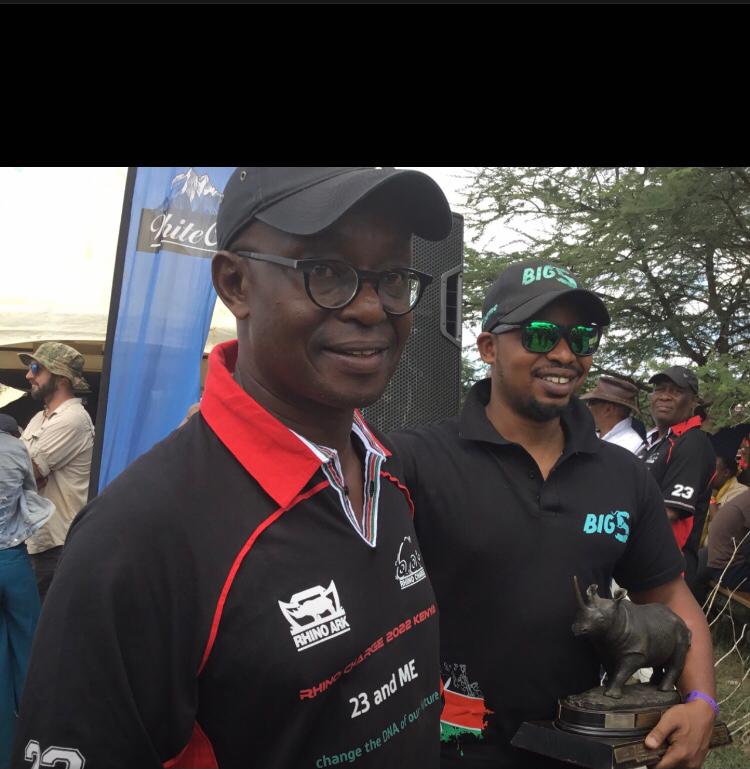 There are various categories of winners, based on the distance of vehicles and also the funds raised. For the second year running, The overall winner was car number 38 entered by Sean Avery (Bundifundi), followed by Car number 22 entered by Gray Cullen (The smiling shenzis). Car number 5 by Phillip Walton (Team 5) was in third place. This year's charge attracted fifty-four participants out of the potential sixty-five. 
The highest fundraiser was Peter Kinyua (Car number 23), who secured Kshs 39,517,947 up from last year's figure of Kshs 36,243,250. The second position was taken by Adil Khawaja, Car number 44, with Kshs 21,733,677 up from  Kshs 21,361,001 last year. Third position was Stanley Kinyanjui, Car number 62, with Kshs 10,840,000.
Kinyua's Car number 23 won the Victor Ludorum award, which rewards participants for distance and funds raised. He was followed by Phillip Walton's Car number5 and Mark Glen's Car number 48 in second and third positions respectively. 
The modified car category was won by Sean Avery, car 38, followed by Gray Cullen, Car number 22. Phillip Walton's Car number 5 came in third. The Unmodified class category was won by John Bowden, Car number 9, followed by Salim Walimohamed's Car number 10. Car number 19 entered by Petra Somen was in third place.
Funds Usage
As known now, all the funds go to promote water tower conservation. The Rhino Ark charitable trust has built 232km of electric fence on Mt. Kenya, and 34km of a low fence with outriggers. With the funds raised this year, they hope to complete the 300km mark of the fence by this year. There have also been a lot of wildfires in recent times in the Aberdares, Mt. Kenya, and Eburu forests. The funds also go towards combating this. They are also doing fire breaks as of last year, to help mitigate this.