Partnering For Conservation
The Kenya Wildlife Services has signed a Memorandum of Understanding with the San Diego Wildlife Zoo Alliance in the San Diego city of California, United States. The alliance is a non-profit organization that advocates for open-air, cageless exhibits of wildlife that recreates natural animal habitat. Like KWS is to Kenya, the alliance oversees the day to day running of the San Diego Zoo that is home to about 12,000 animals of more than 650 species hosted on a 100 acres piece of land. 
The Memorandum is the reinforcement of a partnership that seeks to foster conservation efforts beyond the borders of both Kenya and the City of California. The MoU also establishes cooperation parameters for both parties, in the areas of conservation science, wildlife health, care and welfare, and a host of other key areas of interest. The MoU will stretch to establishing mechanisms for extending education and outreach initiatives and exchange of technical expertise. 
This comes weeks after the KWS concluded a nationwide census of wildlife within Kenya borders and the Tembo naming festivals which will bolster conservation efforts from an information point. 
Kenya sent a delegation from The Kenya Wildlife Service and The Wildlife Training and Research Institute led by the Principal Secretary Ministry of Tourism and Wildlife, Prof. Fred Segor. In the delegation also, were Kenya Wildlife Director General Brig (Rtd.) John Waweru and Wildlife Training and Research Institute Dr. Patrick Omondi. 
Speaking at the reception and signing event, Paul A. Baribault, the President and Chief Executive of The San Diego Zoo Wildlife Alliance said, "We are thrilled to welcome our distinguished guests, and have this time together to acknowledge our missions to protecting wildlife. At the core of our commitment is the imperative that we must be a strong partner with conservation organizations such as Kenya Wildlife Service. This MOU helps us move forward in the work we must do to ensure a world where wildlife thrives."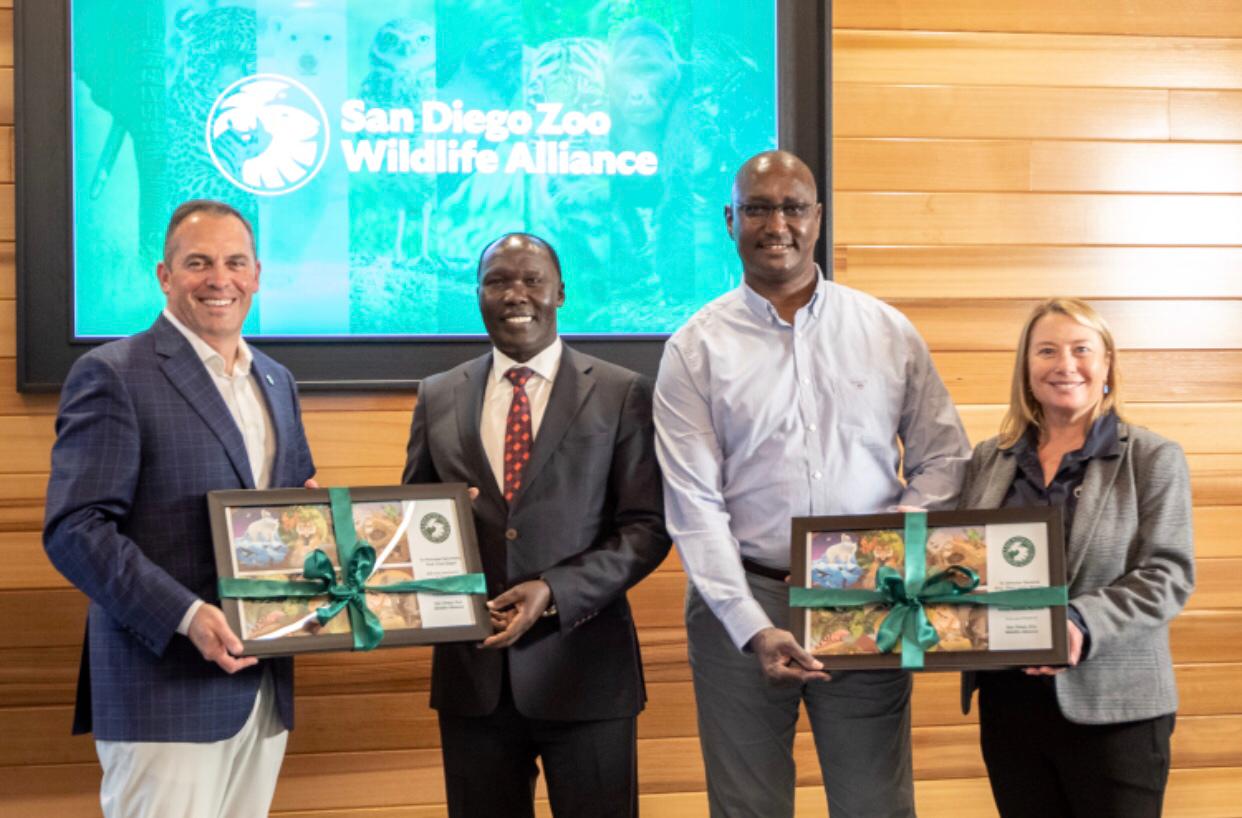 In the recent past, KWS has increased conservation efforts especially so because within its protectorate, there are animals that face extinction. Case in point the Rhinos are Elephants that are high target for poachers. These efforts have seen a significant reduction in the number of animals that fall prey to the poachers, with 2020- recording 11 elephants killed by poachers down from an average 350 in the past years. This has been made possible through a multitude of concerted efforts carried out by several government agencies and communities around the country. 
The Director General KWS Brig. (Rtd) John Waweru said "We are excited to be partnering with SDWZA.
This aligns with the KWS Strategic Plan that identifies three pillars of Conservation, Collaboration and
Enterprise. The partnership will have a huge impact on conservation as it is geared to providing practical
solutions in the identified areas to conservation challenges."
This is not the first time the KWS and SDWZA are collaborating. San Diego Zoo Wildlife Alliance has worked extensively with KWS on many projects, including relocation of rhinos, tracking, and researching giraffe populations, elephant protection and community engagement initiatives. Through these and other important collaborative efforts, the SDWA and KWS acknowledges a shared goal to protect wildlife species where they live.
Such collaborations will not only ensure a future for the wildlife, but also a future with the wildlife!